Overland Park — After starting Friday's game against Shawnee Mission North despite nursing a sprained right ankle, Free State High quarterback Dylan Perry began the second half standing on the sidelines. Next to him, on crutches, was running back Preston Schenck.
Photo Gallery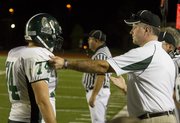 Free State football vs. Shawnee Mission North
Free State football vs. Shawnee Mission North on September 24, 2010.
It wasn't quite as grim a scene as it appeared to be, though.
Sore ankle and all, Perry led the Firebirds to a dominant first half that allowed him to relax for the remainder of the night. Schenck, who sprained his ankle during the contest, was resting with him as well.
Paced by five combined touchdowns from Perry and Schenck, Free State (3-1) exploded for a 32-point half en route to a 46-7 thumping of SM North (0-4) on its homecoming night at SM North District Stadium.
"It was different, for sure," Perry said of his role as a spectator for the second half. "But I think it's good because next week we have a tough opponent (Shawnee Mission East). I want to get as much rest as I can."
The Firebirds came out with a flourish, leaving the raucous crowd of Indians fans little to cheer about aside from the announcement of the homecoming court.
Only three plays into the game, Schenck took a handoff from Perry and burst right up the gut, taking it 60 yards for the score.
On the ensuing kickoff, Cale Nieder — filling in for usual place-kicker Colin Phillips — kicked a low line drive right off an Indian defender, and senior Henry Vaeono recovered.
Six plays later, Perry punched the ball in from the one-yard line.
Joyce followed with another pseudo-onsides kick, which Vaeono again picked up off the turf.
Free State coach Bob Lisher said with Phillips out, the coaching staff had worked with Joyce on his line-drive kicks, but the consecutive squibs were not straight out of the playbook.
"Basically, sometimes you've got to be lucky, and that was lucky, because we hadn't worked on that," he said.
Whether the Firebirds were benefactors of luck or not, their first-half barrage continued, quickly turning the game into a blowout.
Schenck scored twice more on rushes of 21 and three yards, and finished the half with 143 yards on only 11 carries.
Perry ran only a few times, but completed seven of nine passes for 107 yards, including a 23-yard touchdown strike to junior receiver Desmond Wyatt, who also caught a 17-yard second half score.
The FSHS defense was equally stout in the first half, holding the Indians to only three first downs, forcing two more turnovers, and stopping four opposing drives three-and-out.
"We knew it was their homecoming, that they were going to be excited," Schenck said. "We just wanted to come out and put our stamp on the game right away and not give them any hope."
Though the game was all but decided in the first half, Free State's second half was lackluster — prompting players to reflect on last week's narrow loss to SM West.
"We came out and we hit them in the mouth, that's what you've got to do in this league," Perry said. "But we can't let down in the second half, and we've done that in the last few games, so we've really got to work on that."
In the wake of the Firebirds third straight game dominating an opponent in total offense, they're still talking improvement.
"We've got some things to work on on Monday," linebacker/receiver Tim Lewis said. "We didn't play our best tonight."
Copyright 2017 The Lawrence Journal-World. All rights reserved. This material may not be published, broadcast, rewritten or redistributed. We strive to uphold our values for every story published.