For 80 scoreless minutes on Thursday night, Free State keeper Elliott Johnson was flawless in goal.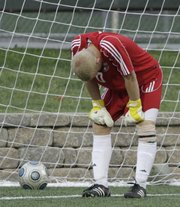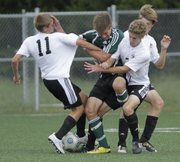 The senior dove, leapt and sprawled all over the goal box to thwart numerous would-be goal scorers from Shawnee Mission South.
Unfortunately for the Firebirds, Johnson couldn't save everything.
Barely one minute into overtime, midfielder Tyler Combs executed a perfect cross to the front of the net, where Devyn Simmons headed it into the top corner, giving Shawnee Mission South the 1-0 victory over Free State.
"It's heartbreaking to lose like that," Free State coach Kelly Barah said. "Especially for the kids after the tough week they've had."
Barah referenced Tuesday's 0-0 tie at Lawrence High — where several aggravated Firebirds lost their cool and received yellow cards — as a trying event.
"Our frustration got the best of us, but we got back to our core values this week in practice," Barah said. "We just needed to remember who we are as a program."
The Firebirds (2-4-1) had their emotions under control on Thursday, but looked a bit sluggish at the onset against the Raiders (5-1).
Though Free State dominated possession against Lawrence High, SM South maintained control throughout most of the first half.
While the Firebirds struggled to mount scoring opportunities, the Raiders used ball control to generate a number of quality scoring chances.
But Johnson was there, often making it look easy as he steered aside shot after shot.
Others weren't so easy. Twice on SM South corner kicks, Johnson was forced to come up in the box and leap amid a crowd of attacking forwards to punch the ball away from the net.
There were a few more occasions where Johnson had to race forward and make sliding stops as Raider forwards rushed in on the attack.
"He's been huge for us these past few weeks," Barah said of Johnson.
After making 11 saves in regulation, number 12 barely eluded Johnson — as it floated just over his outstretched arms on the game-winning goal.
Barah said despite being held scoreless for the second straight match, he was proud of the way his team competed against a tough opponent.
"Today was a much better performance (than Tuesday)," he said. "We battled hard out there."
"We just need to execute better," Barah said, referring to his team's close matches of late. "We've been in every single game, we just haven't been able to take control."
All of which was reason enough for Barah to display faith in his team.
"Goals are going to come," he said. "We just need to believe it."
Copyright 2018 The Lawrence Journal-World. All rights reserved. This material may not be published, broadcast, rewritten or redistributed. We strive to uphold our values for every story published.