Washington — Tea party activists and the Republican establishment are quickly joining forces for the fall elections as fresh cash and energy flow to the upstarts.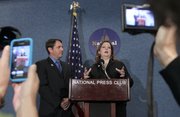 Separate tea party groups still squabble over roles for Republican insiders within the movement, but the conservative activists and GOP stalwarts have reached a truce for the common goal of defeating Democrats, heeding calls for unity from Republicans including Sarah Palin.
One group — the nonprofit Tea Party Patriots — on Tuesday announced a $1 million donation from an anonymous donor, a shot of cash to be spent before the election on voter mobilization efforts. The Tea Party Express is preparing to assist specific candidates, building on its targeted advertising campaigns during primary races in Delaware, Alaska and Nevada.
Meanwhile, the Republican Party and GOP-allied outside groups are already helping some tea party-backed candidates, most notably Sharron Angle, who is seeking to unseat Senate Majority leader Harry Reid in Nevada.
"Ultimately, that's what we all hope happens, as citizens," said Tea Party Patriots co-founder Mark Meckler. "The political parties support the candidates that the people support, not the other way around."
It's hardly unusual for opposing forces to coalesce after primaries to confront the opposition party. But the vigor with which tea party activists went after longtime Republican office holders — such as Sen. Robert Bennett in Utah and Rep. Mike Castle in Delaware — had raised the prospects of a rift that would be difficult to heal.
But Sen. John Cornyn of Texas, the head of the National Republican Senatorial Committee, was offering plenty of salve Tuesday.
"I think the tea party's been a very constructive movement in American politics," he said. "People are tired of everything thrown at them from Washington, and they are not going to take it anymore. We have embraced their enthusiasm and their energy in the Republican primaries and now we're strongly behind all the Republican nominees, including a number of candidates who are very actively supported by the tea party movement."
To be sure, the tea party and the Republican Party are far from strangers.
Start with the movement's financial backing. The Tea Party Express, a group formed by a longtime California GOP consultant, has raised more than $5 million and financed about $2 million in advertising to help candidates.
The organization was an offshoot of a political action committee created to support John McCain's Republican presidential run in 2008, and its chief strategist is Sal Russo, a Sacramento Republican operative who has worked for nearly 50 years helping run party campaigns, including those of Govs. George Deukmejian of California and George Pataki of New York.
Copyright 2018 The Associated Press. All rights reserved. This material may not be published, broadcast, rewritten or redistributed. We strive to uphold our values for every story published.