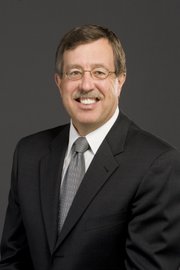 Kansas University announced Wednesday afternoon that Business School Dean William Fuerst will step down at the end of the academic year.
The resignation comes just a few months after students began questioning how the school was using funds raised through additional course fees charged to students taking business courses.
A breakdown of how the differential tuition funds are spent has been expected since late August — but, as of Wednesday, still was not complete.
Fuerst, who will remain on the faculty, was named dean in June 2000 after serving as associate dean of Texas A&M;'s Lowry Mays School of Business. His tenure is the second-longest of any of KU's business school deans.
Tim Metz, one of the graduate students who brought forth the concerns, welcomed the announcement that Fuerst would step away from leadership of the school.
"At the end of the day, this is a real step in the right direction," Metz said. "Hopefully, this is going to lead to more openness and transparency in the business school."
Both Fuerst and KU Provost Jeff Vitter were unavailable for comment Wednesday afternoon, but Vitter said in a statement that he had asked Fuerst to work on a new project that improves collaboration with area businesses and leads to more internship opportunities for students.
"We appreciate the leadership Dean Fuerst has provided during his long tenure as dean," Vitter said in the statement. "KU has benefited from the quality of our business school and the new programs it now offers. In the same way, I know that he will help improve our efforts in corporate relations."
Todd Cohen, a university spokesman, said Fuerst had led the business school through a period of growth, as the school added five majors, 19 faculty members and 314 students, taking its enrollment to 1,680.
He encouraged people to wait for an upcoming differential tuition report before rushing to judgment on any role the situation had on Fuerst's stepping down.
"I'm sure people will speculate, but he's going to be here when the report comes out, obviously," Cohen said, adding that the university was "confident" the report would show funds were used properly.
A national search will begin this fall to replace Fuerst, and a replacement is expected to be named by the time Fuerst leaves the deanship in June.
In a memo sent to the business school's faculty and staff, Fuerst said he had been planning on retiring in the next two or three years. He said his decision to step down now was related to the timing of several items that will fall to the new dean, including KU's major fundraising campaign scheduled for a public kickoff next fall; the school's efforts to construct a new building; and key business faculty searches.
"I feel it would be appropriate for a new dean to be involved in these activities and for the new faculty to begin their careers at KU with the dean with whom they will work in the long term," Fuerst wrote. "This is an extraordinarily critical time in the evolution of the School and an appropriate time for a new dean to begin."
Copyright 2018 The Lawrence Journal-World. All rights reserved. This material may not be published, broadcast, rewritten or redistributed. We strive to uphold our values for every story published.