Special-teams play hadn't been much of a concern for Free State High's football team.
Photo Gallery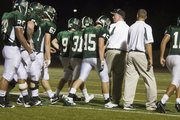 Free State football vs. Shawnee Mission West
The Firebirds recorded their first loss of the 2010 season after giving up a big lead late in the game.
In fact, it was one of the team's many strengths.
Friday night, however, it was the team's undoing.
Free State (2-1) suffered a 21-20 loss to Shawnee Mission West (2-1) behind a rash of special-teams gaffes, despite leading throughout thanks to physical defensive play and a monster game from senior quarterback Dylan Perry.
"It stings really bad," senior linebacker/receiver Tim Lewis said. "We've got to learn how to finish the game."
Perry rushed for 193 yards and two touchdowns and threw for 184 yards and another score — most of which came after he sprained an ankle.
The Firebird defense was equally impressive, holding the explosive Vikings rushing attack to 106 yards on 34 carries — just over three yards per rush.
But despite carrying a 20-7 lead into the fourth quarter, the various mistakes by the special-teams group spoiled what looked to be a Firebird victory.
"I feel like we had done pretty well on special teams. They'd been a plus for us until tonight," FSHS coach Bob Lisher said of what he counted as five miscues.
As if a sign of what was to come, the special-teams unit started the night off poorly, though it didn't end up proving costly.
After electing to receive the opening kickoff, the Firebirds promptly coughed up the ball to the Vikings inside their own 30-yard line. From there, the defense relented only three yards on four straight rushes by the run-heavy West offense.
Perry and the offense took over after the stop and quickly drove for a score. The eight-play, 72-yard drive was capped by Perry's 45-yard strike to receiver Nate Davis.
Davis' touchdown snag was the lone offensive highlight of the first half – in large part due to the sound play of both defensive units.
Though the Vikings did a good job containing Perry and senior running back Preston Schenck, the Firebirds were smothering.
With the defensive line closing down running lanes, the Firebird linebackers were able to swallow up runners in the backfield. Free State limited West to only one first down in the first half.
Perry led Free State to a score on its first possession of the second half with his 19-yard scramble, but the extra point was blocked.
Another special-teams gaffe soon followed.
The Firebirds were forced to punt, but punter Kale Joyce's knee touched as he went to field the snap. West was able to take over, again, inside Free State's 30-yard line, where it cashed in on Tre Burt's 15-yard run.
Free State muffed the ensuing kickoff and was forced to begin the drive from its own three.
Two plays later, though, Perry responded. The senior took the snap out of the shotgun formation and wove through the defense behind crushing blocks from his linemen before cutting back to the left and up the sideline for a 79-yard touchdown run.
Given another short field after spotty coverage on the kickoff, the Vikings capitalized, narrowing the Firebird lead to 20-14 on William Livingston's 20-yard run.
One defensive drop-off Lisher noticed in the second half was tackling.
"We've been a good tackling team all year, but when we needed to make a play there, we didn't grab enough cloth," he said.
Still, Free State had a chance to put the game away with a clock-eating drive late in the fourth quarter, but a crucial drop on third down meant another punt. And another mistake.
The Vikings flew past would-be Firebird blockers and blocked Joyce's punt – enabling them to start their drive inside the red zone with under five minutes to play.
West cashed in three plays later, taking a 21-20 lead. Though Perry and the offense drove 66 yards (after another muffed kickoff) in the Firebirds' two-minute offense, they were stuffed on a fourth-and-two play to all but end the game.
Bitter as the loss was for the Firebirds, there was plenty of optimism after the game.
"It's really disappointing," Perry said. "But the good thing about it is it's still early in the season, so we can fix it. That's what we've got to look forward to."
"Our kids are tough. They know they played a tough game against a tough football team," Lisher said. "They were picked second (in the preseason poll) for a reason – they're pretty good. But I thought we had an opportunity to beat them. We just didn't finish."
Copyright 2018 The Lawrence Journal-World. All rights reserved. This material may not be published, broadcast, rewritten or redistributed. We strive to uphold our values for every story published.