After watching her team drop all four matches last weekend at the Mo-Kan Tournament, Free State volleyball coach Nancy Hopkins wasn't about to make drastic changes.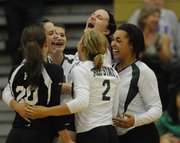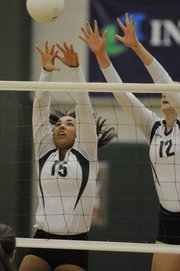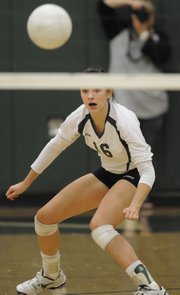 Instead, her message was simple.
"After last weekend, we worked on consistency all week," Hopkins said. "We worked on trying to get passing consistent, setters to put the ball consistently in the same spot so hitters know what to expect."
The Firebirds (5-5) looked like a more well-rounded team at Thursday's quad in winning two of three matches. Free State knocked off Shawnee Mission Northwest (25-22, 21-25, 25-20), fell to Blue Valley North (25-18, 25-16) and defeated SM South (25-9, 22-25, 25-13).
"The first thing that we were working on this week was getting more consistent, as the week went on, we could see that working, and it definitely showed in tonight's matches," senior middle hitter Meaghan Holmes said.
In Free State's opening match against Northwest, the pinpoint passing and setting that Hopkins stressed was on display.
With libero Reilly Moore strong from the base line, setters Katy Davis and Elisa Coffey were able to loft the ball perfectly to assist the Firebird hitters.
Outside hitters Shelby Holmes and Grace Miller were in position to slam home kills, and the 6-foot-3 Meaghan Holmes dominated in the middle — using her superior size to stuff opposing attempts. The three combined for 18 kills in the first match alone.
After getting swept in two sets by Blue Valley North in its second match, Free State looked revitalized against South.
"It's natural for players to feel tired and weary, but what we're trying to do is build up that endurance, so that we have that focus deep into the match when other teams could slip and get flat," Meaghan Holmes said.
With Davis serving, the Firebirds opened the first set with 13 straight points. Davis had four aces, and the two Holmes' racked up six kills to lead the way.
But despite routing the Raiders 25-9 in the first set, the Firebirds stumbled in the second behind a number of mistakes.
"Good teams don't do that. Good teams come back after killing a team like that, they kill that team again," Hopkins said.
"We definitely lost our focus, so before that third game we had to pull everyone in and get our priorities straight," Davis said.
The Firebirds did just that, regaining the dominant form of the first set. Again the setters skied the ball into ideal spots for the hitters, who rained down kill shots left and right.
Meaghan Holmes added three more kills, and sophomore Kennedy Kirkpatrick tallied six kills, including one for match point to give Free State the victory.
Though last weekend's tough trip was unsuccessful, perhaps it was just what the Firebirds needed.
"I learn a lot about my team, what they're capable of, when they play teams like that," Hopkins said. "So there's a little tradeoff there."
Copyright 2018 The Lawrence Journal-World. All rights reserved. This material may not be published, broadcast, rewritten or redistributed. We strive to uphold our values for every story published.