Eighteen high schools participated in the Free State Invitational on Monday at Lawrence Country Club, where the out-of-towners ended up outshining the locals.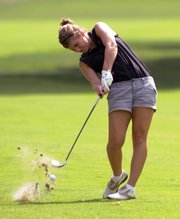 Lawrence High and Free State's girls golf teams finished ninth and 14th, respectively, out of the 14 teams that had enough entrants to qualify for a team score.
St. Thomas Aquinas finished in first place at 325, bolstered by Isabella Baldacci's round of 78 on the par-70 course.
The four Lions golfers tallied 408 total strokes, while the best four Firebird scores totaled 476.
Senior Taylor Covert (96) shot the low round for Lawrence High, while senior Alyson Butler (103) had Free State's tidiest score card of the day.
"We did better this year than we did last year as a team," Lawrence High junior Payton Covert said.
While the Covert sisters and fellow Lions teammate Kathryn Lunte said they didn't play up to their standards, sophomore Quillen Eichorn was proud of her performance in her second-ever varsity tournament.
"I played better than I ever have here," she said of her round (114) at the familiar course.
Eichorn also made a few mistakes, which she made light of afterward.
"I hit some really good shots, but I had some when my parents were watching that I topped," she joked.
Though his team finished last, Free State coach Craig Hershiser said that overall the event was a success.
"All in all, this field of 85-plus girls really did a good job getting around the course. They managed themselves very well," he said.
As for how his team fared, Hershiser was optimistic.
"I don't think any of them are where they want to be. In fact, I know they aren't where they want to be," he said. "But they're continuing to work hard at it; our attitude is good."
Hershiser stressed the main way to improve is simple — keep playing.
"We put the kids in fairly tough tournaments, and we try to find the ones that are appropriate," he said. "But I think competition just makes you a little sharper. If you're willing to go out and compete, you can't do anything but get better."
Copyright 2018 The Lawrence Journal-World. All rights reserved. This material may not be published, broadcast, rewritten or redistributed. We strive to uphold our values for every story published.