To the sound of techno music playing on his small stereo, Isaac Stallbaumer, Topeka, quickly spray-painted works of art for the small crowd surrounding him.
"It's kind of an audience art," he said.
Photo Gallery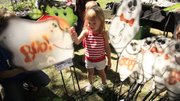 31st annual Fall Arts and Crafts Festival
Stallbaumer was one of an estimated 170 vendors who filled South Park in Downtown Lawrence on Sunday afternoon for the 31st annual Fall Arts and Crafts Festival.
Stallbaumer learned his craft about three months ago while in New York.
"I went home and practiced every day in the garage," he said. "I found this fair and thought, 'why not?'"
Within a few minutes he had spray-painted what appeared to be an outer-space picture of the moon and stars. Sunday's event was his second festival working as a vendor. He said he received positive feedback at a fair in Abilene, so he decided to try his luck in Lawrence.
The festival attracted other aspiring artists, including 11-year-olds Katelyn Hess and Rinny Herndon, students at Quail Run School. Their business, Kids Kaps, stayed busy, with a prominent place near the sidewalk on Massachusetts Street.
"We've been selling a lot," Katelyn said.
The girls decorate bottle caps and turn them into necklaces. They split their earnings three ways: Katelyn gets a third, Rinny receives a third and then the rest goes back into buying supplies.
Other booths sold paintings, drawings, soaps, aprons and just about anything else you could imagine.
Katie McCollom, Topeka, brought her little sister to the festival.
"We're having a great time here seeing all the families and all the crafts people can make," McCollom said.
In addition to the wide variety of arts and crafts, the event also attracted food vendors, including John Morse of Overland Park, who sells funnel cakes.
"I love Downtown Lawrence; it's a great festival," Morse said.
Copyright 2018 The Lawrence Journal-World. All rights reserved. This material may not be published, broadcast, rewritten or redistributed. We strive to uphold our values for every story published.