Leavenworth — With a comfortable lead over Leavenworth High on Friday night, Free State appeared as if nothing could stop it.
Photo Gallery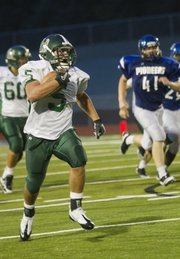 Free State football vs. Leavenworth
Free State defeated Leavenworth 55-7 after the end of the game was postponed until Saturday due to lightning.
Except, of course, for the weather.
Heavy thunderstorms put the game on hold until Saturday afternoon, prompting coach Bob Lisher to remark that it could be difficult for his team to regain their momentum from the previous night.
Any doubt Lisher had was squashed once the Firebirds (2-0) hit the field Saturday, as they picked up right where they left off the night, scoring early and often in their 55-7 thrashing of the Pioneers (0-2).
"It's a little different to have to shut it down and start back up the next day, but that's what good teams do: They have to be able to turn it on and be ready to go whenever," senior running back/linebacker Preston Schenck said.
While Schenck led the way Friday night with three highlight-reel touchdowns, Saturday it was fellow senior Dylan Perry's turn.
Perry, a quarterback/cornerback, used his legs to drive the Firebird offense on their first possession, carrying four times for 55 yards, capped by his three-yard plunge into the end zone. He later muscled his way through Pioneer defenders for an three-yard score.
Perry finished with a team-high 104 rushing yards and two touchdowns on 10 carries, while Schenck carried 13 times for 84 yards.
Meanwhile, the Pioneers, who operated out of a spread formation, barely could get out of neutral. Free State defenders broke through their offensive line with ease and flattened would-be runners in the backfield.
The Firebirds held Leavenworth to minus-15 yards on 19 carries.
Lisher said Leavenworth's spread scheme is relatively newly implemented and somewhat modeled after Texas Tech's offensive system. With as many as five receivers spread out wide, there weren't nearly enough blockers to contain the Firebirds.
"It takes awhile. It's a new system, so we tried to take advantage of that, and we did," he said.
With the running game neutralized, Pioneer quarterback Mark Dabeck was forced to make plays through the air, only there were more Firebirds ready and waiting.
Free State intercepted Dabeck three times, one of which was returned by – who else? – Schenck for a 40-yard touchdown.
The return was one of four taken the distance by Free State, and Schenck was responsible for two others – a 44-yard punt return and a 94-yard kick return. He also had a hand in Perry's 91-yard fumble recovery, after diving to block a Pioneer field-goal attempt.
His favorite one of the bunch?
"Probably the kickoff return. That was my first kickoff return at the varsity level, so it was pretty cool to give us a boost and change the momentum," he said.
Schenck deflected much of the credit to his coaching staff and the blockers out in front.
"We just saw a couple of things that if we blocked right and set things up right, that one of us would have a chance to return one, and we did – the guys in front did a great job," he said.
Lisher said that though the Firebirds still have plenty to improve upon, he was pleased with the two-day effort.
"I thought we came out and took care of business. It's tough for both teams to get out here and continue on what you started the night before,. Our guys did a great job continuing to put the pressure on," he said.
Copyright 2018 The Lawrence Journal-World. All rights reserved. This material may not be published, broadcast, rewritten or redistributed. We strive to uphold our values for every story published.