Kansas City, Mo. — Hallmark Cards Inc., a $4 billion empire built on a demand for printed sentimentality, enters its second century facing a weak economy and what could be an even greater challenge: a generation that has grown up posting its sentiments online.
Hallmark has thrived since Joyce Clyde Hall peddled postcards in Kansas City 100 years ago, rising to become the nation's largest greeting card company with more than $2.5 billion in annual revenue from cards, gift wrap, partyware and more.
"They're the biggest. They're the giant," said Emily West, a communications professor at the University of Massachusetts-Amherst who has studied Hallmark and how greeting cards are used. "They're like the Kleenex of greeting cards ... like the Hoover of sentiment."
Nevertheless, Hallmark, a privately held company that releases limited information about its finances, has endured two straight years of falling revenues. Its consolidated revenue of $4 billion in 2009 was 8 percent lower than the year before. In 2008, Hallmark revenues were off 2 percent from the previous year.
In 2009, Hallmark — a company with a reputation of holding onto employees for decades — dropped 8 percent of its work force, which now stands at about 13,400 worldwide.
Whether the revenue drops and layoffs were due to the recession or from the generational shift to more spontaneous forms of communication is still being hashed out.
Don J. Hall Jr., grandson of Hallmark's founder and the third generation of Halls to lead the company, isn't alarmed about the possible fallout from the sluggish economy — something he notes "every consumer-based, retail-based company" has had to deal with.
Hall also waves off concerns about electronic media being the death of the greeting card; Hallmark has heard it before.
"There were people telling my grandfather all the time that the telephone will lead to the demise of greeting cards," Hall said. "Then during my father's years, it was the fax machine. If you can send a fax ... same thing.
"Then it happened a decade ago with e-cards, and they said e-cards will replace greeting cards."
Hallmark, he said, always saw its way through.
"I think each new phase we found that people really valued the tangible and the emotional qualities of greeting cards," Hall said. "Throughout our 100-year history we've seen changes, but we've always been able to remain relevant in people's lives and use new technology."
Hallmark in Lawrence
Hallmark's Lawrence production center, 101 McDonald Drive, manufactures about 40 percent of all greeting cards sold by Hallmark. It employs about 550 people.
The Lawrence plant opened in 1958 and covers 650,000 square feet.
Moving online
Remaining relevant has involved crafting the Hallmark blog, Facebook page, YouTube offerings and a Twitter account. Electronic greeting card books, cell phone greetings and Web-based e-cards — including the popular "hoops&yoyo;" brand — show the company is trying to roll with technology.
The company also owns crayon manufacturer Crayola and a real estate development firm, and is a majority owner of cable broadcaster Crown Media, which operates The Hallmark Channel.
But it's all built around the paper greeting card — and its sales.
While Facebook recently hit its 500-million member mark, "an estimated 6 billion paper greeting cards were exchanged last year in the U.S.," says Hallmark spokeswoman Linda Odell.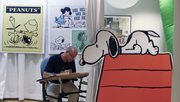 Sales figures
Overall greeting cards sales in the U.S. account for about $7.5 billion in business, according to the Greeting Card Association, a national trade group based in White Plains, N.Y. The GCA says in comparison, an estimated 500 million e-cards were sent each year. American Greetings, Hallmark's chief rival, says its sales remain strong.
Jim Sinclair, who owns 31 Hallmark stores mostly in Indiana, said Hallmark's sound cards, recordable greeting cards and other innovative cards have attracted younger people.
"I think we're making inroads there. But that's certainly the opportunity we need to seize to drive our business in the years to come, to get that younger clientele in the door," Sinclair said.
Staying viable
Pam Danziger, who analyzes the greeting card industry as president of Stevens, Pa.-based Unity Marketing, said Hallmark will likely have to change some aspects of how it does business to stay viable. One move could involve cutting down on its manufacturing investments and large art staff, Danziger said.
Hallmark's 700 artists include writers, photographers, and more at the company's Kansas City headquarters and make up one of the country's largest in-house creative staffs.
"The whole model of today's greeting card industry is really a 20th-century model where there's mass printing and writers and poets," Danziger said.
West, of the University of Massachusetts-Amherst, said while social-networking sites could be eroding card usage, it has yet to be determined how young people will "age into card sending."
The constancy of electronic communication could actually be the impetus behind what West sees as a "new romance with tangible media."
"Even if you don't like the card that much, you know the person left their house, went to the store and had to select the card and mail it," she said. "Now that seems like a lot of work."
Tanya Adams, 38, was visiting Kansas City recently from her home in San Diego and had just bought a pop-up 40th birthday card at a Hallmark store. She said she prefers paper cards to e-mail or other electronic greetings.
"I'd much rather get a Christmas card that I'll look at 50 times," she said. "Otherwise, an e-mail or whatever, I'd just forget about it."
Copyright 2018 The Associated Press. All rights reserved. This material may not be published, broadcast, rewritten or redistributed. We strive to uphold our values for every story published.