In one night — one half, really — Lawrence High's football team erased all the painful memories of 2009 with a 40-6 pasting of Leavenworth on the opening night of the new season.
Photo Gallery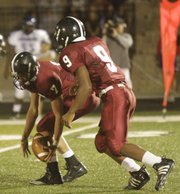 LHS football vs. Leavenworth, 2010
"This is a great feeling," said LHS senior Darrin Sorem, who scored two first-half touchdowns on one-yard plunges. "We worked hard, we got everybody in that locker room to believe in what we're trying to do this year, and I don't think anybody's looking back to last year anymore."
Why would they? After what the Lions showed Friday night, there seems to be plenty to look forward to in 2010.
Sophomore quarterback Brad Strauss — who finished with 238 yards of offense and two TDs — led Lawrence to touchdowns on its first five drives to open a 33-0 lead against a team it needed overtime to beat in 2009.
"We got great field position, and our offensive line did a great job of creating holes and making things easy for us," said Strauss, who sported a hairdo that included a hint of a mohawk and lines shaved into the side and the back of his black locks, courtesy of senior offensive lineman Jamal Brown.
So good was the Lions' offense in the first half that Lawrence High coach Dirk Wedd was able to go to his second stringers with five minutes to play in the half. On the opening play of the game, Strauss stood in the shotgun, and the Lions lined up with four wide receivers.
"I've been doing this for 35 years," Wedd said. "And I learned a long time ago that you fit your offense to your personnel. We've got a few weapons this year, and we want to show them off."
Lawrence's first drive of the night was its longest in both time and distance. The Lions traveled 70 yards in four minutes and took a 7-0 lead on a three-yard run by junior tailback Charles Jackson, who finished with two scores.
After that, however, Lawrence started most of its drives inside Leavenworth territory. Had they not, the Lions likely would have threatened the 500-yard mark in total offense. As it was, Lawrence outgained the Pioneers, 328-76, in total yards.
The Lions' defense, fast and physical, was highlighted by a strong stand on fourth-and-goal on Leavenworth's opening drive of the second half. When Leavenworth tailback Jason Randall took the toss and went right, there to meet him was Strauss, who also plays safety for the Lions.
"He's a good player," Wedd said of his new QB. "We thought from the time we saw him as a ninth-grader that he could handle the challenge of leading the offense. More than the talent, though, he's just a great kid. He respects the heck out of our seniors, and the seniors respect the heck out of him when he's putting points on the board."
Said Strauss of his debut: "I came in confident because I had a pretty good summer. But I didn't expect us to throw up 40 points."
As for the man who held Strauss' spot a season ago, he, too, was impressed by the rookie's first varsity action.
"I figured he'd be a little more timid than he was," senior Chris Gaston said. "But he was great. I think he's a heck of a player."
After winning just one game in 2009, the Lions already are 1-0. What's more, as a team, Lawrence completed just 10 passes in all nine games combined last year and scored only 91 points. Friday, the Lions completed 11 passes and scored nearly half of that point total.
"(Leavenworth) caught us on a mission tonight," Wedd said. "We've had a bad taste in our mouths for nine months now and we were really hungry to get a win tonight."
Lawrence will travel to Shawnee Mission East next Friday.
Copyright 2018 The Lawrence Journal-World. All rights reserved. This material may not be published, broadcast, rewritten or redistributed. We strive to uphold our values for every story published.