Photo Gallery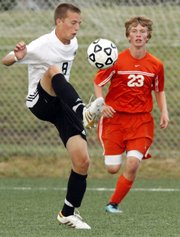 Free State soccer vs. Bonner Springs
Free State High's boys soccer team dropped its season opener on Thursday, losing 3-1 to Bonner Springs at FSHS.
Hunter Peirce scored the Firebirds' lone goal.
Free State's next game will be Thursday at Olathe South.
Copyright 2018 The Lawrence Journal-World. All rights reserved. This material may not be published, broadcast, rewritten or redistributed. We strive to uphold our values for every story published.