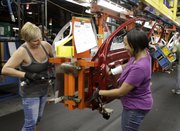 Washington — Manufacturing is growing in the United States and abroad, easing fears that the economy might be on the verge of a second recession.
The U.S. sector expanded for a 13th straight month in August, coinciding with gains in Chinese manufacturing and auto sales.
The news gave Wall Street a boost, with investors overlooking dismal reports on U.S. auto sales and construction spending. The Dow Jones industrial average closed 253 points up.
China's robust growth raises hopes that it will step up its consumption of U.S. exports and help sustain the U.S. economic recovery.
"Companies that have established distribution capabilities in big markets such as China, India and Brazil are doing well," said Brian Bethune, chief U.S. financial economist at IHS Global Insight. "These markets are pretty much the main game in town until the American household gets out of the intensive care unit."
In the U.S., manufacturing has helped lead the economy out of the worst recession since the 1930s and factories kept churning out goods last month.
The Institute for Supply Management said Wednesday that its manufacturing index rose to 56.3 in August from 55.5 in July. A reading above 50 indicates growth. The trade group's index has surged since late 2009 and hit a six-year high in April.
U.S. factories have seen rising demand for exports and from businesses that are investing in capital equipment and supplies.
Other notable business news:
• Apple unveils new $99 TV box for renting movies, shows. On Wednesday, Apple unveiled a smaller, cheaper version of Apple TV, which connects to a high-definition television and can show rented movies and TV shows from Apple's own service, plus content from Netflix, photos on Flickr, YouTube clips and more.
• Paste music magazine to stop print publication. The music monthly Paste has printed its last magazine after struggling financially for more than a year. Editor-in-chief Josh Jackson said Wednesday that the publication based in suburban Atlanta will keep its popular website going but will no longer send print copies to its more than 200,000 subscribers.
Copyright 2017 The Associated Press. All rights reserved. This material may not be published, broadcast, rewritten or redistributed. We strive to uphold our values for every story published.