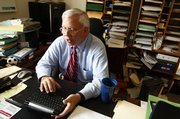 Related document

A longtime Lawrence attorney's license to practice law has been temporarily suspended, and he faces four complaints of professional misconduct.
A Dec. 9 hearing has been set for Shelley Kurt Bock on a complaint filed by the Office of the Disciplinary Administrator.
A telephone message left Friday for Bock, who has been a lawyer since 1979, was not returned.
In 2008, the Kansas Supreme Court suspended Bock's license for three years, but then allowed him to continue legal work under supervision.
At that time, the Kansas Board for the Discipline of Attorneys found that Bock had violated the Kansas Rules of Professional Conduct in two cases by failing to do the work he was hired to do.
Since then, four more complaints have been filed against Bock.
In 2009, Bock was hired and paid to do the legal work to help a man expunge his criminal record. But Bock could not be reached for six months, according to the complaint filed by the state's Deputy Disciplinary Administrator.
Earlier this year, Bock was appointed guardian ad litem for several juveniles but failed to appear at numerous meetings involved in their cases.
In two other cases, Bock also failed to do the legal work for people he was representing.
The hearing panel could recommend to the Kansas Supreme Court a wide range of punishments — up to disbarment.
Copyright 2018 The Lawrence Journal-World. All rights reserved. This material may not be published, broadcast, rewritten or redistributed. We strive to uphold our values for every story published.