It's a balmy Wednesday afternoon, just before football practice, and most of the Free State High football players already have moved from the locker room and out onto the field.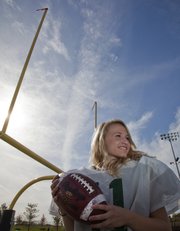 Some hang back a bit, chatting while they finish suiting up, but most already have donned their helmets and hit the turf.
All the while, senior Amanda Moyer quietly makes her way out of the girl's/visitors' locker room, decked out in full pads, with her helmet in hand.
"They're a lot different than I thought," she said, glancing down at the bulky pads that seem to engulf her entire frame. "I actually thought they'd be a lot heavier, and they're really not. So it's better than I expected, I guess."
Moyer — 5-foot-2, blonde, maybe 100 pounds in full pads — will handle the place-kicking duties for the Firebirds at 7 tonight against Lawrence High.
Moyer, who also is on the cheer squad, had planned to try out at the beginning of the season, but wasn't sure if she'd be able to juggle both activities, along with her other commitments.
But just over a month ago, when she heard that the junior varsity team was without a kicker, Moyer decided it was time to pay a visit to coach Bob Lisher on a Monday morning before class.
"All weekend I was freaking out, and I asked my parents. They were all for it. Both of them are really supportive," Moyer said. "I just figured, when am I ever going to get the chance to do this again?"
Lisher supported the idea as well, and her cheerleading coach was equally receptive, so all that was left was picking up her equipment and hitting the field.
The seemingly spontaneous decision actually makes sense, considering Moyer's athletic skill set.
"I've played soccer since kindergarten, so I figured it couldn't be that hard," said Moyer, who plays on Free State's soccer team.
Her father, Brant Moyer, offered a different take on Amanda's soccer background.
"She's played soccer for a long time and has missed a quite a few goals over the cross bar," he said. "So I thought maybe she'd could hit a few field goals instead. If they're going over anyway, might as well try it on the football field."
Going with her instinct has certainly paid for Moyer.
After getting the go-ahead from coach Lisher, Moyer began attending daily practices and assumed the role as the junior varsity kicker — where she only had one attempt at a kick, but the holder couldn't get the snap down.
Then an opportunity presented itself in the form of an injury.

When senior kicker Colin Phillips was lost for the season in a soccer game two weeks ago, Moyer suddenly was among a handful of options to handle place-kicking duties for the varsity squad.
One solid practice later, Moyer had earned the chance to handle the first extra-point attempt on Senior Night against Olathe Northwest.
"She was the most consistent and accurate in practice," Lisher said. "A couple of other guys maybe had a little stronger foot, but she was the most accurate."
On the field with the varsity squad for the first time, Moyer wore number 81 and was acknowledged with her parents before the game as one of 18 graduating seniors.
Then, after the Firebirds scored on their first drive, Moyer – ponytail spilling out the back of her helmet – jogged onto the field with the kick team and lined up to kick.
Snap good, hold good, and Moyer coolly thumped one straight through the uprights.
The crowd and her friends cheerleading on the sidelines erupted with cheers, as Moyer pumped both arms into the air and scampered off the field.
"Don't get me wrong, though, I was really nervous," she said. "I thought I was going to faint or something."
The early jitters must have worn off, because on subsequent tries she was a perfect 4-for-4.
"She's really good," junior receiver Desmond Wyatt said with a grin. "She's got the golden boot."
Moyer only got one opportunity in last week's 38-7 loss at the hands of Olathe North, but she was good on that attempt as well.
The expectations for Moyer are a bit higher now, and not just on the football field.
Her soccer coach, Kelly Barah, was in attendance during the game and ecstatic for Moyer afterward — but he may be even more excited to see her on the pitch this spring.
"I can't wait to see what she has in soccer now," Barah said.
"She's in trouble now," he quipped, adding that Moyer, quite literally, has set the bar pretty high for herself.
In a game full of dazzling plays, the smallest Firebird on the field ended up shining on Senior Night.
"It couldn't have gone any better for me," Moyer said.
Moyer certainly proved she can kick, but now only one question remains: Can she get out there and make a tackle?
"I don't know if I could do it," she said. "Maybe, but I haven't tried."
Copyright 2018 The Lawrence Journal-World. All rights reserved. This material may not be published, broadcast, rewritten or redistributed. We strive to uphold our values for every story published.