Free State High School's football team defeated Lawrence High, 42-20, on Friday night at the Lions' field.
Photo Gallery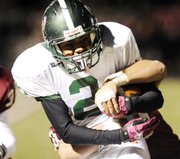 LHS football vs. Free State
The rivals were tied at 14 at halftime.
Dylan Perry scored four touchdowns for Free State; Charles Jackson three for the Lions.
Free State advances to the state playoffs with a 5-4 record, 2-1 in district play. The Lions' season ends at 3-6, 0-3.
Copyright 2018 The Lawrence Journal-World. All rights reserved. This material may not be published, broadcast, rewritten or redistributed. We strive to uphold our values for every story published.