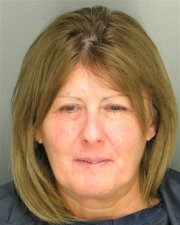 An inmate who didn't return to the Douglas County Jail after being released over Christmas 2008 has been arrested near Lincoln, Neb.
Candice Amyx, 45, was pulled over early Thursday afternoon while driving a 2002 Saturn Vue with no license plates, said Lancaster County, Neb., Sheriff Terry Wagner.
Amyx initially stopped for a sheriff's deputy on a county highway, but then pulled back onto the road and briefly led officers on a low-speed chase, Wagner said.
About seven miles down the road, she pulled off the road again, and submitted to arrest. She had apparently been making phone calls during the chase to attempt to arrange child care for her 14-year-old son, who was in the car with her, Wagner said.
In addition to charges in Douglas County, Amyx was wanted on a felony theft of services warrant in Lancaster County, and was driving a car that had been reported stolen in Missouri. The sheriff's office reported that Amyx was last known to be living in Beatrice, Neb., which is about 40 miles south of Lincoln.
In Lawrence, District Judge Jack Murphy had granted a temporary leave for Amyx in 2008 during the Christmas holiday.
She had been awaiting sentencing after pleading no contest to four counts of forgery and one charge of theft in September 2008.
Amyx was initially arrested on charges of fleeing to avoid arrest, possession of stolen property and child abuse, which are all felonies. She also faces misdemeanor charges of criminal possession of a financial transaction device — likely a credit card, Wagner said — and making a false report, in addition to other traffic charges.
Wagner said the criminal investigation into her activities is still ongoing. She appeared in Lancaster County District Court Friday afternoon, but was only formally charged with the outstanding theft of services charge.
Officers at both Douglas County and Lancaster County sheriff's offices said that Amyx would eventually be sent to Kansas to face charges here, but that hadn't yet been arranged. She also has outstanding warrants in other jurisdictions in eastern Kansas and Missouri.
"It's going to be kind of a toss-up as to who gets her first," said Douglas County Sheriff's Sgt. Steve Lewis. "We'll be able to get her back here eventually, because she essentially escaped from our facility."
Lawrence Mayor Mike Amyx has said that Candice Amyx is his former sister-in-law. She was married more than a decade ago to his youngest brother, who is now deceased.
Copyright 2018 The Lawrence Journal-World. All rights reserved. This material may not be published, broadcast, rewritten or redistributed. We strive to uphold our values for every story published.