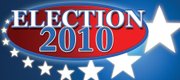 Find detailed candidate profiles, campaign finance information and complete election coverage in our Election Guide.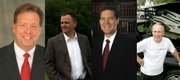 Tom Holland, Andrew Gray, Sam Brownback and Ken Cannon ran for Kansas governor in the 2010 election.
-->
Topeka — Kansas public health advocates say they worry about the views expressed by candidates for governor on the new statewide smoking ban.
The candidates haven't called for the law's repeal. But in a recent debate, both Republican Sam Brownback and Democrat Tom Holland said the issue should be left to local governments.
The ban took effect in July, and Tobacco Free Kansas Coalition President James Gardner says it will improve Kansans' health.
He and other public health advocates also say it enjoys broad public support. Some business owners say it's hurting their revenues.
Smoking is barred in most public places, including bars and restaurants — but not in state-owned casinos.
Copyright 2018 The Associated Press. All rights reserved. This material may not be published, broadcast, rewritten or redistributed. We strive to uphold our values for every story published.