The state's 3rd District U.S. House race has been a back-and-forth between two candidates who said they would be the best new fit to represent the district in Washington.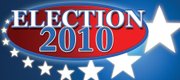 Find detailed candidate profiles, campaign finance information and complete election coverage in our Election Guide.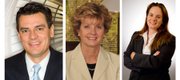 Kevin Yoder, Stephene Moore and Jasmin Talbert are running for the U.S. House of Representatives in the 3rd Congressional District.
-->
Democrat Stephene Moore, of Lenexa, said her career as a nurse puts her in good position to go to Congress as an outsider.
"People are ready for someone to bring a fresh face to Congress, someone who has lived like they have and take that to Washington," she said.
But Moore's not exactly an unfamiliar face in the district. She seeking to replace her retiring husband, Dennis Moore, who since 1999 has represented the district that includes eastern Lawrence and Douglas County, plus Wyandotte and Johnson counties.
And her main opponent in the Nov. 2 election, Republican Kevin Yoder, an Overland Park attorney and state representative, said Stephene Moore favors too many policies that have made the current Congress unpopular.
"I think the answer is reducing spending and getting the economy growing again," said Yoder, who served as the House Appropriations chairman in Topeka. "The politics coming out of Washington are doing exactly the opposite."
At odds on policy
Differences between candidates on several issues have emerged, especially on tax policy.
Moore said the Bush tax cuts need to be extended for 12 to 18 months due to the state of the economy.
"Making them permanent, I would hate to say that because we don't have a crystal ball," she said. "We don't know what's going to happen, but right now raising taxes on anybody is not a good idea."
Yoder favors making the tax cuts permanent.
"Raising income taxes for any segment of Americans right now, whether low income or high income, is not going to help the economy get going again," Yoder said.
Yoder gained much attention in the last legislative session in Topeka when a coalition of Democrats and moderate Republicans eventually mustered enough votes to pass a sales tax increase instead of Yoder's proposed budget.
Yoder had said the state needed to reduce spending but supporters of the tax said schools and other services couldn't afford more cuts.
Moore has criticized Yoder's budget, saying it would have slashed $172 million in school funding and could have led to school districts raising local property taxes instead.
"The rest of the story is his own Republican legislators said that would have caused most likely a very massive personal property tax increase," she said.
But Yoder said he favors local districts having more control to guard against school closings and teacher job cuts. He also said the state needs to reduce spending because the economy has not turned the corner.
"When I was put in a position of leadership in Topeka, I stood up and led," he said. "They were tough decisions. They weren't always popular decisions, but I think people are looking for a congressman who will go to Washington and lead and not just do whatever is politically popular."
Yoder has criticized Moore's support for certain legislation and at debates has frequently mentioned Moore's name in the same sentence with Democratic House Speaker Nancy Pelosi. He has particularly criticized Moore's support for the cap-and-trade energy bill, saying it would end up costing local businesses.
"We have to get Washington out of the way," Yoder said. "New penalties and burdens being placed on small business owners are making it very difficult."
The bill passed the House but not the Senate. Moore said she would have supported cap-and-trade to get debate moving on the nation's energy policy, particularly utilizing more of the state's wind energy potential.
"It was a good opportunity to start the discussion and the planning on what we need to do, and it is about energy in our future," Moore said.
Third candidate
Libertarian Jasmin Talbert is also on the ballot. Talbert is an Overland Park geophysicist who recently lost her job due to the recession. Talbert said her personal experience with the difficult economy seems to be resonating with voters. She said she has also gained good reviews from her performance at forums alongside Moore and Yoder.
"I'm very direct, and I'm straightforward, and I answer the questions. I'm not interested in slinging any mud," Talbert said.
If elected, she said she would work to reduce federal debt and pull troops out of Afghanistan and Iraq.
Copyright 2018 The Lawrence Journal-World. All rights reserved. This material may not be published, broadcast, rewritten or redistributed. We strive to uphold our values for every story published.