The fastest girls cross country runners, including Lawrence High sophomore Grace Morgan, already had finished their 4K races.
Photo Gallery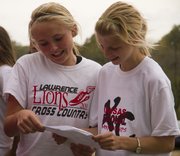 2010 6A regional cross country meet
LHS senior Emily Davidson was more than a minute behind, still making her way up the final stretch.
Davidson couldn't have known that her finish in the Class 6A regional Saturday at Haskell Indian Nations University ultimately would decide which city school would qualify for the state meet. She was behind Free State senior Hayley Francis — also a track rival — with around 25 yards to go.
"When she passed me on the lower part of the finish, I was like 'OK, well, obviously she's got it, and I don't. I don't have this kick,'" Davidson said. "I was like 'No, I have to get her. She can't beat me. This is Hayley Francis. This isn't happening.'"
Seeing the LHS fans lining the final straightaway and thinking about the cross country tradition of the school gave Davidson a little more drive, enough to pass Francis steps before the finish line.
Davidson's time, 17:08.32, barely edged out Francis', 17:08.50. As a result, Lawrence High placed third with 99 points to earn the final state-qualifying position. Free State, with 100 points, was fourth and did not qualify as a team — the only one of four city squads at the regional not to earn a team state berth.
Davidson's extra push, along with the second-place finish by sophomore Grace Morgan, propelled the Lions to state.
"That's crazy," Davidson said. "I never would have thought that would happen."
Free State's Lynn Robinson finished seventh with a time of 16:46.59 and qualified for the state meet as an individual.
In the boys' 5K, Free State senior Logan Sloan won individual regional title with a time of 16:41.22.
He said he was focused on lengthening the pack of runners so more Free State runners could hang around, thus increasing the Firebirds' chance of making state as a team.
The plan worked.
Lawrence High finished first as a team, placing seven runners in the top 20, but Free State was second. Both squads will compete at state next Saturday at Rim Rock.
"The girls didn't make it, so we got a little frustrated and ran hard," Sloan said.
The 6A girls race will start at 10:30 a.m. and the 6A boys race will start at 11:30.
"I'm really excited," Morgan said.
Copyright 2017 The Lawrence Journal-World. All rights reserved. This material may not be published, broadcast, rewritten or redistributed. We strive to uphold our values for every story published.