All day Saturday, no matter which match was on the court, the crowd was raucous, with emotion from all sides running high.
Photo Gallery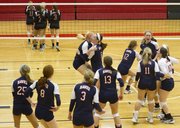 2010 6A Sub State Volleyball Tournament
Though they played in separate brackets, Lawrence High and Free State High volleyball teams also shared something in common: Each fell to an Olathe opponent in the finals of sub-states on Saturday at LHS.
Free State, the four seed in the A bracket, defeated sixth-seeded Topeka High in its first match (21-25, 25-12, 25-20) before falling to the top-seeded Olathe Northwest (25-9, 25-12).
Lawrence High, the three seed in the B bracket, downed Olathe South (16-25, 25-17, 25-21), but was upended by Olathe East (23-25, 25-22, 25-16) to end the night.
There were plenty of tears on the Lions' side. LHS had been to state three of the previous four years.
"We're used to going to state," senior Kiely Mosiman said. "It's just the worst feeling in the world."
Five of the Lions' (19-17) six seniors led the way throughout the evening.
Morgan Green had a team-high 25 kills, Kelsey Broadwell added 16 kills and 13 set-assists, and Karisa Sanders chipped in with 13 kills and four blocks. Mosiman had 38 set-assists, and senior libero Kendyll Severa had 13 digs.
After edging the Falcons in their first match, the Lions appeared in control against the Hawks — mainly due to Mosiman's sets and well executed strikes by Green, Broadwell and Sanders — but fell in the final two sets.
"We left it all on the court," Sanders said. "I know all of us played our hearts out, and we gave it to the better team tonight."
After a sluggish first set, FSHS — in a rematch of last Tuesday's triangular — easily dispatched Topeka High.
But the Ravens (34-5) proved too big and too strong, and easily swept the Firebirds — still playing without 6-foot-3 senior Meaghan Holmes — to advance to state.
The Firebirds were far less upset post-match, though. Several Firebirds even showed up to cheer on their crosstown rivals.
"I've made new best friends; we're all like a family," FSHS senior Reilly Moore said. "Today doesn't even matter. The whole season was a just bunch of fun."
In the two Firebird matches, sophomore Shelby Holmes led the team with 16 kills, followed by fellow sophomore Kennedy Kirkpatrick, who had 13 kills. Freshman Grace Miller added 10 kills, and junior Mariah Dickson had eight kills and three blocks.
Moore had nine digs, sophomore Katy Davis had 24 set-assists, and senior Elisa Coffey added seven set-assists and three digs.
Coffey said after the match that, though she was disappointed to end her senior year short of state, she was excited for the young crop of Firebirds in the years to come.
"I can't wait to come back and watch," she said.
Copyright 2018 The Lawrence Journal-World. All rights reserved. This material may not be published, broadcast, rewritten or redistributed. We strive to uphold our values for every story published.