On the street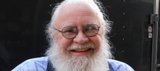 I sure do. I volunteer with the United Way and the Sunflower Parish, I'm president of the Sunflower council and chairman of the board for New Beginnings Inc. in Hutchinson, and I'm the Winfield Santa.
When the children at Stepping Stones Childcare enter the school Sunday, instead of the usual classroom decorations, they will be greeted with hanging bats, cobwebs, pumpkins, witches and several other Halloween-themed decorations. With the help of volunteers taking part in Make a Difference Day, the center successfully transformed into a spook house in preparation for its Halloween Party.
Karen Strauss, landscape architect from Lawrence, donated her Saturday morning to helping decorate for the event. Her contribution involved setting up for a haunted maze by hanging black trash bags over the walls and ceiling of the basement and adding obstacles.
"I've always wanted to help decorate a haunted house," Strauss said. "I'm happy to be giving my time in order to make a special and fun day for the children."
At least 10 other volunteers helped with the decorating. Many said they participate in hands-on service projects because they find it more personal and rewarding to see the outcome of their work.
Strauss and the others are just a handful of the 120 volunteers that took part in the national service day. Now in its 20th year, Make a Difference Day is the largest community service effort in the nation. Locally, the service projects were organized by the Roger Hill Volunteer Center, 2518 Ridge Court, Suite 200.
Emily Hampton, program director at volunteer center, said a variety of volunteers signed up, including families, KU and community groups and individual volunteers.
"This is the biggest turnout we've had for the day or any other fall day of service in the past," Hampton said. "It's been really encouraging to see people come out in such large numbers, despite it being Homecoming for KU."
More than 10 local agencies received help. Projects ranged from Halloween decorating to outdoor clean-up and maintenance.
Joni Hughes, a retired Lawrence resident, helped paint and work on landscaping projects at Family Promise, which helps homeless families get back on their feet. Hughes said she thinks it is important to give back and contribute to the community. She said it is rewarding to help others and know that you've made a difference somehow.
"I've never known hunger and want, but I know people who do," Hughes said. "Volunteering is a way to give back to them and to the community."
The experience was not only rewarding for the volunteers, but for the agencies as well.
Sam Snyder, community outreach coordinator at Family Promise, said it was special to see people helping others and getting the chance to meet strangers. She said volunteers and days of service are important to Family Promise, and the help is much appreciated.
"We save these projects for days like this because they are things we can't get done normally," Snyder said.
Roger Hill Volunteer Center had not participated in Make a Difference Day since 2007. Hampton said the Center hopes to reinstate the day as their main fall volunteer event.
"It is inspiring to be a part of a nationwide day of service that celebrates neighbors helping neighbors," Hampton said. "Clearly, the Douglas County area has a strong sense of community and service."
Copyright 2018 The Lawrence Journal-World. All rights reserved. This material may not be published, broadcast, rewritten or redistributed. We strive to uphold our values for every story published.