Olathe — Lawrence High coach Dirk Wedd thinks quarterback Brad Strauss is a special talent, so he keeps the ball in his hands whenever possible. Wedd said it's easy to forget that Strauss is just a sophomore.
Photo Gallery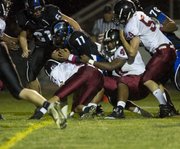 LHS football vs. Olathe Northwest
He was reminded at an inconvenient time in the Lions' 17-16 loss to Olathe Northwest on Friday at the College Boulevard Activity Center.
The Lions, down three points, faced fourth-and-goal at the Northwest one-yard line with four minutes to go.
Strauss looked over to the sideline for the play call and deciphered quarterback sneak.
But that wasn't the play the LHS coaching staff wanted. They signaled in a play-action quarterback keeper around the right side behind powerful blocker — and senior — Jamal Brown. Strauss, running the play he thought he saw, plunged behind his center, but fell short of the goal line.
Strauss wanted to take the blame for the error after the game, but Wedd pointed the finger at himself and said he should have used a timeout.
"It was too big of a play. I didn't think there was any question — we don't even have a quarterback sneak," Wedd said. "But that's my fault. That's poor coaching on my part."
The loss put the Lions' (3-5) district record at 0-2. They need to defeat Free State at LHS on Friday, make up a 14-point differential and hope that Olathe Northwest (3-5) doesn't upset Olathe North to make the playoffs.
Coach Todd Dain's Ravens opened the game with a bit of trickery, running a halfback pass on the first offensive play of the game. LHS expected a running play. Junior running back Connor Middleton stopped and found a wide-open Nick Bandy 25 yards down the field.
Bandy jogged into the end zone just 10 seconds in.
"They knew they couldn't do anything else against us, so they came out with that," senior Austin Flory said. "We were surprised."
Strauss responded, rushing for 52 yards on the ensuing drive and following a Brown block into the left side of the end zone from five yards out.
Northwest tacked on a 33-yard field goal to take a 10-7 lead into halftime.
Coming out of halftime, it was Lawrence's turn to score on its opening drive. Strauss found Flory streaking over the middle of the field for a 61-yard go-ahead touchdown. Strauss finished with 209 passing yards and 88 rushing yards.
The Lions took the 14-10 lead into the fourth quarter, but Ravens senior quarterback Leonard Parks found the end zone from three yards out on the second play of the quarter.
The teams traded possessions until LHS senior Darrin Sorem recovered a Parks fumble and gave the Lions a short field. Strauss moved the ball near the goal line, but couldn't pound it in.
"If we could have scored there, our defense played great, we could have gotten a stop and maybe won the game there," Strauss said.
Northwest took an intentional safety after three running plays, but the Lions couldn't move the ball quickly enough with time running out. Facing fourth-and-19 from the Ravens' 44, Strauss found senior Chris Gaston open, but Gaston's dive to make the catch left him a yard shy of the first-down marker.
Wedd said he was proud of his team, especially considering the rash of injuries.
"Our kids have played hard all year and overcome a lot of adversity," Wedd said. "There's not many football teams that can walk out on that field and play that hard under the circumstances that they've been under all year."
The City Showdown on Friday could be the last game for the Lions' seniors.
"We've been wanting to kill Free State in a varsity game since I've been there," senior Flory said. "This is our time to beat them this year."
Copyright 2018 The Lawrence Journal-World. All rights reserved. This material may not be published, broadcast, rewritten or redistributed. We strive to uphold our values for every story published.