Dennis Hawver, Steve Six and Derek Schmidt are running for Kansas Attorney General.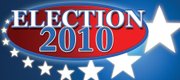 Find detailed candidate profiles, campaign finance information and complete election coverage in our Election Guide.
-->
Topeka — Partisan barbs are flowing in an attorney general's race that could turnout to be the closest statewide contest on the November ballot.
Democratic incumbent Steve Six, appointed to the post in 2008 by then-Gov. Kathleen Sebelius, thinks Republican challenger Derek Schmidt is trying to rewrite history by claiming to have led the drive for the Kansas version of Jessica's law.
In return, Schmidt, a state senator who has been majority leader since 2005, said Six is exaggerating his experience as the state's top prosecutor, especially since he's prosecuted only two criminal cases in his career.
The Topeka Capital-Journal looked into claims on both sides and reported Thursday that documents, published accounts and interviews with Democrats and Republicans shed light on the campaign rhetoric.
For instance, Schmidt claims that he was among the first lawmakers in 2005 to call for passage of Jessica's law, a 4-year-old statute that imposes a life sentence without possibility of parole for 25 years for first-time adult perpetrators of sex crimes against children under 14 years old.
"Derek is confident he was a key player in making this legislation happen," said Schmidt spokeswoman Jackie McClaskey. "He literally led the charge."
While Schmidt was among many advocates in the Statehouse for the popular measure, he also almost single-handedly killed it by insisting that a provision be added to allow private jails in Kansas.
Residents in Yates Center, in his district, wanted a private prison in their community.
"He even threatened to adjourn the session if he didn't get his way with private prisons," said Senate Minority Leader Anthony Hensley, a Topeka Democrat.
Near the end of the 2006 session, legislators became concerned that Jessica's law might become entangled in gridlock when House Speaker Doug Mays wouldn't budge on the prison issue. But Schmidt relented, and the compromise version that didn't include private prisons passed 122-0 in the House and 36-2 in the Senate.
"It's another example of how some legislators work," said Six spokesman Gavin Young. "Important law for the benefit of Kansas was bundled with legislation that only helps special interests."
As for Six's campaign advertising holding him up as the state's top prosecutor, Kansas Republican Party executive director Ashley McMillan said Six had never prosecuted a criminal case until he was appointed by Sebelius in 2008.
"You would think they could at least get their facts straight," McMillan said.
Six spent two-thirds of his career as a personal injury lawyer in Missouri before being named a Kansas district court judge in 2005.
McMillan said Schmidt has handled more theft, domestic battery, assault, drunken driving and drug cases as a city prosecutor in Independence in the past few weeks than Six has ever taken up.
"Neither Derek Schmidt nor Steve Six is a career criminal prosecutor," McMillan said. "The difference is that Derek Schmidt will be honest and tell you that, while hypocrite Steve Six keeps pretending to be something he's not."
Six has prosecuted two Kansas murder defendants, making him the first Kansas attorney general in 34 years to personally take over a criminal case.
He got a 50-year sentence last year against Kenneth Wilson for first-degree murder in the shooting death of an Osborne County farmer in 2008. Earlier this year, he prosecuted Israel Mireles for the 2007 murder of a woman in El Dorado. Mireles was sentenced to life without parole.
"The Republican Party would be better served trying to defend Derek Schmidt's record in the Legislature than highlighting his part-time work prosecuting misdemeanors," said Kenny Johnston, executive director of the state Democratic Party.
Copyright 2018 The Associated Press. All rights reserved. This material may not be published, broadcast, rewritten or redistributed. We strive to uphold our values for every story published.