With the field dressed up with green balloons and streamers to commemorate senior night, Free State High's soccer team closed out its 2010 home schedule with an impressive victory worthy of a celebration.
Photo Gallery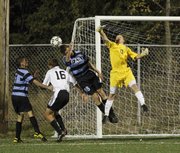 Free State soccer vs. Shawnee Mission East
The Firebirds (6-8-2) beat Shawnee Mission East, 2-1, on Tuesday night at Free State.
"We played really well against a well coached team," FSHS coach Kelly Barah said. "It was just unbelievable to see that kind of performance."
The Firebirds were down 1-0 in the first half, until senior Preston Newsome netted the equalizer.
The game was still tied in the second half, when Newsome fed junior Hunter Peirce, who hit the game winner to send the Firebird seniors out in style.
"What a great way for the seniors to have their last regular-season game end," Barah said.
Copyright 2018 The Lawrence Journal-World. All rights reserved. This material may not be published, broadcast, rewritten or redistributed. We strive to uphold our values for every story published.