David Broder at the Dole Institute of Politics
On how he got into journalism, even though he wanted to be a "jock" while in high school in Illinois:
"I regularly finished last in the low-hurdle races. ... What you end up doing is writing about sports, and that's how I got into journalism."
On the future of the newspaper industry:
"The view at The Washington Post from our management, which is, I think, as conscientious and serious about journalism as any management in the business, is that we are going through a transition, not a death spiral. It's a transition, and that the question of our future depends on whether we can find an economic model that sustains quality journalism in the Internet age."
On covering Congress when Bob Dole and Gerald Ford served as leaders:
"We never thought very much about what it took to make politics work for the country. ... We just thought it was a natural condition, but we were wrong about that. It turns out that it takes a very special kind of blend of personalities, intellect and circumstance, I guess, for politics to produce solutions."
On Dole's legacy:
"There is no member who has served in the last 25 years who has a larger fan club and influence in both parties than Bob Dole because he made it his business to reach out not just to Republicans but to Democrats."
Pulitzer Prize-winning columnist David Broder did not pull any punches when asked Monday night about how the Nov. 2 mid-term elections will turn out.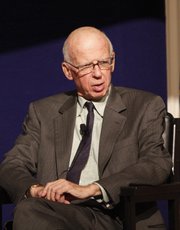 "They're going to come out very well for the Republicans and very badly for the Democrats," said Broder, who spoke to about 300 people on Kansas University's West Campus. "I don't think that the polls are wrong. I don't think that we're misreading the situation."
The Washington Post columnist, who won the 1973 Pulitzer for distinguished commentary, said Republicans would likely win back the House, elevating Ohio Congressman John Boehner to be speaker, but he said Christine O'Donnell's tea party-fueled Republican primary victory in Delaware will likely keep Democrats in power in the Senate.
"(Republicans) have probably blown it for the Senate because they cannot win that election with her as the Republican nominee," he said.
Broder, 81, spoke candidly about the national political climate during the 2010 Muncy Journalism and Politics Lecture. He apologized for a cold he caught over the weekend. It caused him to frequently cough, but he still spoke for more than an hour fielding questions from Dole Institute director Bill Lacy and the audience.
The political atmosphere has changed drastically in two years, and Broder said one Clinton administration Democratic insider told him President Barack Obama attempted to take on too much in his first two years instead of focusing solely on economic recovery and jobs.
"Had he done so, my friend said, the picture today might be very different," Broder said.
He could see Obama reaching out to work with Republicans more if the Republicans gain more power in Congress. Broder said it could be difficult after such a bitter period of partisanship. For example, he was surprised that the 2009 stimulus bill gained such little Republican support.
"That's odd because when you have a genuine economic crisis, you would think that it would affect more than the members of one party," he said.
But he still hoped it could serve as a wake-up call for more cooperation, even though he voiced concern about the level of influence that interest groups from both the left and right have gained in Washington.
"But I also think that elections make a difference," Broder said. "And the politicians who are out on the stump this week and next week are getting an earful from the voters about how fed up those voters are with the spectacle of this dysfunctional government. And I'm hoping, hoping that will have some impact on them when they come back to Washington."
Copyright 2018 The Lawrence Journal-World. All rights reserved. This material may not be published, broadcast, rewritten or redistributed. We strive to uphold our values for every story published.