More than 700 Lecompton-area residents will have their names engraved in granite, to be honored on the grounds of a national landmark for their steadfast service to the community, state and country.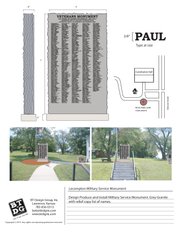 Taking names
Know someone who serves or served in the U.S. military and lives, or once lived, in Lecompton or Kanwaka townships? Send the veteran's name and basic service information to:
Lecompton Historical Society
P.O. Box 68
Lecompton, KS 66050
Information also may be provided via e-mail: lanemuseum@aol.com.
And organizers are looking for more, as plans for a Veterans Monument move forward.
"Our main concern is we want to include everybody, if we can," said Elsie Middleton, a retired accountant who volunteers for the Lecompton Historical Society. "If there's any we miss, we'll try to add them later on. But for the initial dedication we'd like to have as many as possible, because the names will be in alphabetical order — it'll make them much easier to find when you come look."
The monument aims to list every veteran of the U.S. military who lives or who has ever lived in Lecompton and Kanwaka townships, from 1855 on.
The names — Middleton's official list is at 710 and counting — will be engraved in black on the polished face of an 8-foot-tall granite marker, to be placed adjacent to the flagpole just south of Constitution Hall, a national historic landmark at 319 Elmore St.
"It's a perfect place for it," said Paul Bahnmaier, president of the historical society. "It's a place of reverence."
The society has been working on the project for the past decade, when volunteers started selling afghans featuring Lecompton historical sites. The effort has since surpassed $10,000, to be used to create, install and maintain the monument, now and into the future.
Dedication is set for Territorial Day: June 25, when area residents will gather to celebrate the signing of the Lecompton Constitution back in 1855, making the town of Lecompton the capital of the Kansas Territory.
Next year also happens to be the Kansas sesquicentennial, offering yet another reason to reflect, remember and offer respect for Kansans with ties to Lecompton, Big Springs, Stull, Kanwaka and their surroundings.
"We want to honor the citizens of this area who have served their country, in war and peace, for the past 155 years," said Middleton, who is working with Iona Spencer to gather names. "We don't want to overlook anybody."
Copyright 2018 The Lawrence Journal-World. All rights reserved. This material may not be published, broadcast, rewritten or redistributed. We strive to uphold our values for every story published.