Lawrence High's football team still wears red jerseys at home. Sophomore Brad Strauss is still the quarterback. Dirk Wedd is still the coach.
Photo Gallery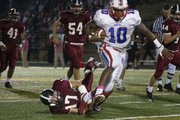 LHS football vs. Olathe North
But due to injuries, just about everything else on the field has changed.
Olathe North — a team with a similar rushing attack to the Olathe East team the Lions upset a seemingly long two weeks ago — rumbled for 461 rushing yards on an injury-ridden LHS defense and knocked off the Lions, 41-3, on Friday night at LHS.
Wedd said the four sophomores starting on defense competed hard but wore down against the Eagles' relentless ground game.
"They're not used to that pounding over the long haul," Wedd said. "For them to be on the field that long, they were bending, and they finally broke."
The Lions (3-4) recorded their only defensive stop of the first half on the Eagles' first possession. The score was just 7-0 at the end of the first quarter, and LHS even had second down and a couple of inches to go at the Olathe North goal line.
But a mostly second-string offensive line missing massive senior Jamal Brown couldn't generate any semblance of a forward push. A false start on fourth down made Wedd opt to kick a 22-yard field goal instead of going for the touchdown.
"We didn't run the football between the tackles for a reason," Wedd said. "We were going against a cannon and we were shooting a pop gun."
Olathe North, behind the gashing runs from seniors Adonis Saunders and Kansas-commit Victor Simmons, scored on its next three possessions to take a 20-3 lead into halftime. In the second half, the Eagles (6-1) picked up where they left off — Saunders rushed right up the middle for a 77-yard touchdown on the first play of the half.
Ballgame.
Wedd wasn't upset with his team's effort but said his younger players need to develop for the team to have success in its final two district games against Olathe Northwest and Free State.
The Lions also endured a tough schedule. After defeating previously unbeaten Olathe East, LHS played a one-loss SM West team and the reigning state champions (O-North) in consecutive weeks.
"To be perfectly honest, three weeks ago, if someone would have told me we would go 1-2 against those three teams we just played, I'd say, 'We'll take it and move on,'" Wedd said. "After you win the first one, then you get a little selfish and think you can steal another one."
The injuries have certainly hurt. The Lions were missing 12 starters Friday night. Wedd tried to protect Strauss by not playing him both ways, but his quarterback took a hard hit in the third quarter and was icing his back after the game.
"We need to get healthy," said sophomore Erick Mayo, who is now playing both cornerback and wide receiver due to the numerous injuries. "Two weeks ago we were a great football team and we're going to get back there. We're going to get back there and we're going to have a good football team."
To continue their season beyond two more games, the Lions likely need to defeat Olathe Northwest and Free State.
"It's a two-game series and I think we've got a shot," Wedd said. "These kids have never given up and they've fought tooth and nail. I think it's in them to win a couple more games."
Copyright 2018 The Lawrence Journal-World. All rights reserved. This material may not be published, broadcast, rewritten or redistributed. We strive to uphold our values for every story published.