Josh Selby doesn't know if/when he can wear his Kansas University jersey No. 32 in an official college basketball game.
Photo Gallery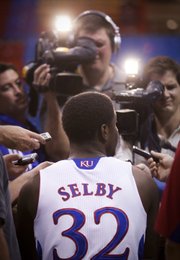 KU men's basketball media day
But for this one day — Tuesday's Media Day — the 6-foot-2 Baltimore point guard was allowed to model his official adidas-made shirt and shorts while speaking with reporters for the first time since a session on campus early last summer.
"It feels lovely," Selby said of dressing for the 45-minute interview session in Allen Fieldhouse.
"This is very special. I think a lot of kids growing up want to put on a Kansas uniform because of the history here. Right now, being part of it, I'm blessed. It's great."
Selby — he has been allowed to attend class and work out with his teammates since the third week of the semester as his academic record and amateur status are examined by the NCAA — said he has not contemplated playing in Friday's Late Night in the Phog scrimmage just yet.
"Everybody's been talking to me about it. I'm not concentrating on it until Friday comes, but when Friday comes, I'll be excited," said Selby, who reminds coach Bill Self of a "bigger Sherron (Collins)."
"I don't feel I have to show fans I'm the next Sherron, because the fans just want to win," Selby stated. "That's all I'm here for is to win with my team. I think me and Sherron (now with Charlotte Bobcats) bring toughness, both physically and mentally, and leadership. That's what we have in common."
Self is hoping the NCAA soon clears Selby because the country's top-rated recruit in the Class of 2010 is a special talent who apparently is mature for his age.
"Josh brings a lot of that to the table on his own," Self said of leadership qualities, "maybe like no other player has had since we've been here at this early stage of his career.
"I haven't seen a lot of him, being so limited in what we can do (with players in offseason). He has a lot of the same things Sherron has or had when he (Collins) was real young. He has a little bit of that personality to go along with it."
McDonald's All-American Selby credits his upbringing for the development of leadership skills.
"Growing up in Baltimore ... it's special. We have our own swagger in Baltimore about hard work, dedication and have a style of play. Hopefully I can live up to it," Selby said. "I'm just focusing on winning a national championship and Big 12 championship."
Selby didn't comment about his eligibility case on Tuesday. He did discuss his state of mind at the beginning of the semester when he wasn't allowed even to attend class.
"I felt lonely because I wasn't out there with my team," he said. "And they were missing me out there. I'm just thankful I have the teammates I have, because without them, I wouldn't have made it through this. Now I'm back. I've just got to work."
He called the KU players his "brothers."
Sense of family is what drew him to KU in the first place.
"The 2008 national championship ... that's when I knew it was best for me to be here," Selby said of watching KU's overtime victory over Memphis on TV. "At the time, I didn't know he (Self) was interested.
"They finally got through to me with my mom my junior year. It's the way they played together in that game. They always stuck by each other's side when they were down. They stuck together like brothers. It's great family tradition here."
Selby already has survived one KU tradition: Self's two-week Boot Camp.
"It was the toughest thing ever," Selby said. "It's tough," he added of college basketball, "but as a team, we've been getting through it. We motivate each other to work hard and be able to compete as a team. We hang around each other all the time. The chemistry is there. It's at 100 percent right now. We just have to get better and better and continue to push each other."
Selby on whether he wants to be a "one-and-done" player: "I'm not focusing on one-and-done now. I'm focusing on winning a national championship and Big 12 championship. If that happens, I guess everything will take care of itself."
Late Night a go: Selby will be allowed to participate in the Late Night scrimmage. "He's cleared to do everything all year long except participate in games. We hope that won't be the case forever," Self said. "There's really nothing to talk about," Self added of the case. "I know you get tired of hearing 'no comment,' but there really is no comment. We have been instructed not to talk about it until we have information, and we don't have information. We do believe it's coming to a head. We don't know when. We hope to have a resolution on it sooner rather than later, but I don't know when that'll be. We certainly understand why this is taking a little bit of time, but I do think there will be a positive conclusion hopefully shortly. I don't know that to be a fact."
Copyright 2018 The Lawrence Journal-World. All rights reserved. This material may not be published, broadcast, rewritten or redistributed. We strive to uphold our values for every story published.