Olathe — Through the first five weeks of the season, Free State High's football offense made habit of rolling through opposing defenses with big plays and a speedy running game.
Photo Gallery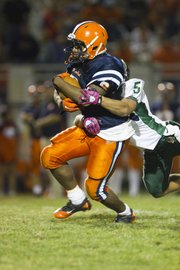 Free State football vs. Olathe East
That offense was nowhere to be found Friday night.
The Firebirds (3-3) were shut down on offense and shut out, 17-0, by Olathe East at the College Boulevard Activity Center.
"Offensively, we've been pretty good all year long. Tonight we weren't," FSHS coach Bob Lisher said. "We shot ourselves in the foot very many times: Offside penalties, motion penalties, sacks, dropped snaps – you name it, we did it tonight. And that's not characteristic of us. We don't make those types of mistakes, and we made a ton of them tonight."
Despite holding the Hawks to 203 yards from scrimmage, the Firebirds only managed 106 yards of total offense against the Sunflower League's stingiest defensive unit.
"I think it's a positive and a negative," Free State left tackle/defensive end Zach Saunders said. "We played well on defense, but we did struggle on offense."
FSHS quarterback Dylan Perry finished with only 12 yards rushing on 18 carries, in large part because he was sacked six times for minus-49 yards.
In his first game back from injury, Free State running back Preston Schenck was hardly a factor as well, mustering only five yards on six carries.
While he had little room to run, Perry had even less time when he dropped back to pass.
When he wasn't being dragged down by multiple Hawks in the backfield, Perry still took huge hits from defenders who ran clear through the offensive line.
"We couldn't protect," Lisher said. "Some of those guys were getting around us so fast Dylan didn't have any time to throw it."
Even when the protection was solid, the Firebirds struggled to execute in the passing game.
"We still got some pass plays off," Lisher said. "But we've got to catch the balls when they hits us in the hands, we've got to run the correct routes, we've got to do things right."
With offensive highlights few and far between for Free State, the mistakes were glaring.
A dropped snap on a punt, a missed field goal and several drive-stalling penalties were among the costly lowlights for the Firebirds in the first half.
Running back Brandon Willingham, who finished with 135 rushing yards, put the Hawks (5-1) ahead 7-0 with a four-yard touchdown run that followed an 11-yard punt.
"The first half, we have two drives inside the red zone, and we come out and get penalties and so forth that backs us up," Lisher said. "It could very well have been 14-7 at halftime. Instead it's 7-zip."
Things didn't improve much for Free State after intermission.
After recovering a Willingham fumble minutes into the half, the Firebirds appeared ready to break out.
But still saddled by penalties and spotty blocking, Free State was forced to punt the ball away yet again.
"Offensively, I still felt like we could move the ball on the ground, but I think everybody just waited for an explosive play, but nobody stepped up – including myself – and we couldn't make anything happen," Perry said.
Perry said the Firebirds can't allow themselves to become too accustomed to big scoring plays which have come easily over recent weeks.
"For some reason this year we've struggled at putting long drives together. If we can get that down, I think we have a chance to be pretty good," he said.
As Free State still struggled to move the ball in the fourth, Willingham scored again from two yards out, and the Hawks added a field goal to put the game away.
"We had bad field position for the entire third quarter, and our defense, despite fighting and fighting, was doing a great job, but our offense couldn't help us out because of assignment mistakes and a lack of focus," Lisher said.
Copyright 2018 The Lawrence Journal-World. All rights reserved. This material may not be published, broadcast, rewritten or redistributed. We strive to uphold our values for every story published.