Overland Park — Most of the Lawrence High football team jogged to the buses behind a shed at the Shawnee Mission South District Stadium Thursday night after suffering a 55-21 loss at the hands of Shawnee Mission West.
Photo Gallery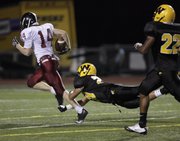 Lawrence High football vs. Shawnee Mission West
The others hobbled, limped or used crutches to make it there.
The last two to make it back to the loading area were uninjured sophomore quarterback Brad Strauss and junior running back Charles Jackson, one of two new additions to the Lawrence High injury list. Jackson suffered a hip pointer in the middle of the second quarter with the Lions down, 24-14. Lawrence coach Dirk Wedd said senior wide receiver Aaron Gile probably broke his wrist.
Lawrence (3-3) had new faces in a couple positions, sure. The team was already missing senior starters Anthony Buffalomeat, Ben Pope, Nicholas Taylor and Jonathan Pederson to injuries.
But how did the mostly-similar Lions that knocked off an undefeated Olathe East team six days earlier find themselves down 27 points to open the fourth quarter?
The team cited a lot of reasons. Wedd said he did a "terrible" job coaching.
"They weren't prepared and that's on me," Wedd said. "It's tough. We didn't play well and when you don't play well, it's a direct reflection on the coach."
The breaks that Lawrence seemed to get against Olathe East just didn't fall the same way Thursday.
SM West and LHS exchanged long touchdowns in the first quarter — West on a 65-yard passing play to senior Jordan Chapman and Lawrence on a scintillating 72-yard run by Strauss. The Vikings moved the ball to the Lawrence 29-yardline and sent junior running back Tre Burt on a pitch left. The ball popped out of his hands and bounced a couple times on the turf, but it squirmed out of bounds before a Lion could recover.
Burt, who rushed for 118 yards and two touchdowns, scored two plays later on a 5-yard run.
The Vikings led, 17-7, until LHS junior Demonta Clark picked off an errant pass by West quarterback Armani Williams and returned it 49 yards for the touchdown.
It was close again, but not for long — senior Cordi Pascal took the Lions kickoff back 90 yards for a touchdown.
"That just totally deflated us," senior Chris Gaston said. "(The interception) put us right back in the game for a split-second and then our special teams, well, we've had some problems with that this year."
Wedd said he wanted junior kicker Anthony Rosen to aim toward the sideline, but the ball ended up in the middle of the field.
Senior Darrin Sorem said it was disappointing being unable to keep the momentum from last week's upset victory.
"Because we didn't, we're going to have to step it up," Sorem said. "People are going to get healthy. People will come back next week and get in the right positions and hopefully play better."
Sorem knows the younger guys filling the spots are athletic and can handle the positions.
"They need more experience, and next week in practice, they'll get there," Sorem said.
The Lions take on defending 6A state champion Olathe North on Friday at LHS to open district play.
Gaston will try to erase his memories of Thursday night as soon as possible.
"But you remember the feeling," Gaston said. "You just forget about it and move on. You remember how bad it feels."
Copyright 2018 The Lawrence Journal-World. All rights reserved. This material may not be published, broadcast, rewritten or redistributed. We strive to uphold our values for every story published.