Barely a week ago, the Free State High boys soccer team could hardly find the back of the net.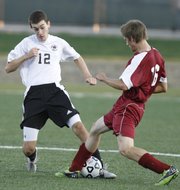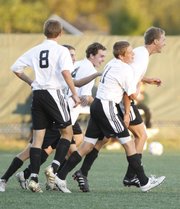 Believe, coach Kelly Barah preached. Believe and the goals will come.
Still, even Barah couldn't have imagined the Firebirds would tally a goal on their first shot on net on Tuesday.
"But I'll take it," he laughed.
A day after its offense broke through for three goals against Shawnee Heights, Free State continued the barrage in a 6-0 rout of Shawnee Mission North.
Eight minutes into the match, junior Andrew Craig rifled a high-arcing shot over keeper Ryan Edmiston's grasp to kick-start the Firebirds (5-5-1).
"Once you see one go in, people start believing, and all of the sudden you see six in," Barah said. "It's good to see that."
A few minutes later, senior Diego Gonzalez — who scored all three Firebird goals on Monday — put one in off of a free kick.
Gonzalez said despite the recent offensive drought, including two losses and a tie in which Firebirds netted only two total goals, there was little frustration.
"We took it very calmly," he said. "We just took it a step at a time. We took really good teams to overtime, or lost it right there, but we were always in the game. We never got blown out."
It showed.
The Firebirds stayed patient throughout the first half, methodically passing the ball to set up scoring chances.
But in the second half, Free State truly dominated. The Indians (3-10) were rarely able to gain possession of the ball, much less mount any serious scoring threat.
"It helps to just keep possession, keep the ball and gain confidence with it," Gonzalez said. "Everybody gets their touches correctly and goes from there."
The midfielders for Free State, such as Preston Newsome and Zackary Thompson, were especially effective.
"We have numbers in the middle and that's what our system allows us to do," Barah said. "We've been winning a whole lot of balls and our center midfielders have been phenomenal."
The Firebirds used that control to tally a few more scores early on in the second.
Junior Hunter Peirce ripped one into the net, and moments later fed a perfect pass to senior Alec Heline, who chipped it over the sprawled out Edmiston to put the Firebirds ahead, 4-0.
Then it was Gonzalez' turn to shine again.
Off of a corner kick, Gonzalez blasted a shot toward the goal box, which curled back over Edmiston's reach and into the back corner of the net.
Gonzalez said he'd scored off of a corner kick twice before.
"My mom always tells me from the stands, 'bend it, bend it, bend it!' but I can't always do it every time," he said with a grin.
Gonzalez finished off his second hat-trick in as many days with a less showy goal, taking a near-perfect lead pass from Dylan Bergstrom and driving it into the net.
Back at .500 and bolstered by the confidence that comes from nine goals in two matches, the Firebirds are ready for a tough test against Shawnee Mission Northwest on Saturday.
"We definitely need to step up and make sure we play the same game, keep possession like we did in the second half, and hopefully get a win," Gonzalez said.
Copyright 2018 The Lawrence Journal-World. All rights reserved. This material may not be published, broadcast, rewritten or redistributed. We strive to uphold our values for every story published.