Free State High senior gymnast Kelcy Bowers only had one day of practice on her new release from the uneven bars before Monday's Lawrence All-Around Invitational.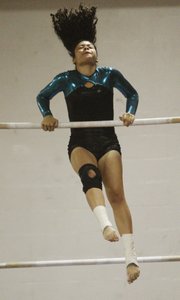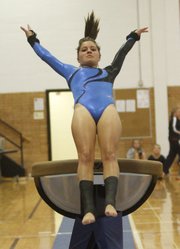 That's typical for gymnasts before the Sunflower League and state meets.
"It's just kind of a chance for girls to try skills that they've never had before and just go for it," Bowers said. "You can see how things work out, so we know what to do at state."
Bowers finished eighth out of 31 gymnasts from 13 schools in the invitational, taking ninth in the vault (8.7), eighth in the balance beam (8.55) and seventh in the floor exercise (8.475).
Coach Kathy Johnson, who leads both the Lawrence and Free State gymnasts, said the girls were disappointed and knew they had certain skills to work on for league and state. The teams practice five days a week for two hours a day, alternating between Lawrence High and Free State High.
Lawrence High senior Tawney Carter, a four-year gymnast, had a Senior Night of sorts since Monday's invitational will be the only one held at LHS this season. She said she wasn't too emotional initially, but after talking about the friendships she has made over the years and the injuries she went through, she admitted she would miss the sport.
"I've been doing it for 14 years, and this is the last year," Carter said. "They're talking about maybe not even having it next year."
Gymnastics in Kansas has definitely seen some changes recently. There is no longer a regional meet, so essentially every team qualifies for state. The only schools that still have gymnastics teams are the 12 schools in the Sunflower League, Emporia and Newton.
"It's been on the bubble the last three or four years, so it's just one of those that we're grateful for every year we get," Johnson said. "Obviously, there's a lot of talent in the state. It's not like it's not popular."
Olathe East's Allison Meads won the invitational with a 35.825 all-around score, barely edging Lee Summit (Mo.) West's Brittany Kallenberger, who finished at 35.75.
Bowers, whose 16th-place finish in the uneven bars likely dropped her a few spots overall, called the new uneven bars release "doable." She vowed to keep practicing at it in preparation for league and state. The team goes to the Newton Invite Saturday for another tune-up.
Free State tied for the all-around team state championship last season. Bowers said she thinks the Firebirds can do it again.
"It's really close with all the teams," Bowers said. "It's pretty much whoever hits that day wins. It's going to be interesting to see what can come together."
Copyright 2018 The Lawrence Journal-World. All rights reserved. This material may not be published, broadcast, rewritten or redistributed. We strive to uphold our values for every story published.