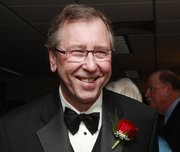 They're four giants in the Lawrence business community, and now they share another achievement.
Marilyn Dobski, Joe Flannery, Val Stella and the late Dolph C. Simons Sr. became the first class to be inducted into the new Lawrence Business Hall of Fame. The group was honored during a formal celebration Monday night in the Kansas Union at Kansas University.
"When I was told about it I was very, very surprised," said Dobski, co-owner of Dobski & Associates, which operates several McDonald's restaurants. "It's very humbling. I'm very proud of this honor, and almost like our wedding day and the day we had our three boys, it's a very exciting honor for me."
Selecting the group was no small feat for Lawrence Junior Achievement leaders, who organized the hall of fame. Members had the unenviable task of choosing three people from a list of 88 nominees. When they couldn't settle on a trio they added one more spot.
Flannery, president of Weaver's Inc., attributed his success to the guidance he received from his father, Larry, and former Weaver's President Art Weaver. Since taking over the department store in 1987, Flannery has helped sustain Weaver's status as an iconic building in downtown Lawrence, but he refuses to take all the credit.
"All the people that work at Weaver's now and that have worked at Weaver's over the years, they share in this award," he said.
Val Stella was honored for his scientific research as a distinguished professor of pharmaceutical chemistry at KU.
Dolph C. Simons Sr. was publisher of the Lawrence Journal-World from 1944 to 1962 and the newspaper's editor from 1950 to 1979. Flannery fondly remembered the friendship he once shared with the Lawrence icon.
"Dolph senior I knew because Art Weaver and he were best friends. Dolph was one of the most respected people in the history of Lawrence," he said.
All the inductees share another common denominator in their success: support from the Lawrence community. Dobski said Lawrence residents have directly contributed to the success of the dozens of McDonald's restaurants her company owns and operates.
"I enjoy what we do every day and I just love people and I think that's part of it," she said. "We've been so accepted here and people have been so supportive of us."
Copyright 2018 The Lawrence Journal-World. All rights reserved. This material may not be published, broadcast, rewritten or redistributed. We strive to uphold our values for every story published.