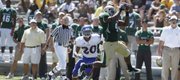 Baylor dismantled Kansas, 55-7, Saturday, October 2, 2010 in Waco, Texas.
Candidate for Game ball
• Punter Alonso Rojas twice gave Baylor horrible field position.
Candidate for Gassers
• The Kansas coaching staff didn't have the team prepared, organized, disciplined or motivated to play Baylor.
Copyright 2018 The Lawrence Journal-World. All rights reserved. This material may not be published, broadcast, rewritten or redistributed. We strive to uphold our values for every story published.