Photo Gallery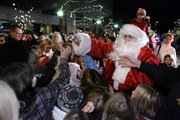 Santa visits downtown Lawrence 2010
Cries of "Santa made it!" rang out Friday evening downtown after Santa descended from the roof of Weaver's, 901 Mass.
Hundreds of Lawrence residents and visitors watched Lawrence firefighters rescue Santa from the roof of the department store after Mayor Mike Amyx turned on the downtown holiday lights for the first time this season.
Lisa Wendel and her 11-year-old daughter, Addie, were on hand for this year's celebration, which also included music from students at the Americana Music Academy and a performance from "Annie," put on by the Lawrence Community Theatre. The Wendels come every year to see Santa climb down from the roof, and Lisa calls them regulars.
"It's fun to watch him come down the ladder," Addie said.
For many, the relatively warm temperatures meant it was their first time out seeing the jolly old man.
Lori Norwood brought her daughters, husband, parents and two Australian shepherds out to the corner of Ninth and Massachusetts streets. Despite living in Lawrence during other holiday seasons, Norwood said they always seemed to miss Santa, so they made a special effort to see him this year.
"We want our kids to experience all these cool things about Lawrence," she said.
Her 6-year-old daughter, Evie Stull, had a more specific goal for the night.
"I want to see the fire department save Santa," she said.
Mindy Besaw, her husband and her 4-year-old daughter, Lyla, came out to the festivities last year for the first time, and they plan on keeping the tradition alive. This year, they knew to get in line to see Santa early, after waiting for a long time last winter.
"We waited close to an hour to see Santa," Mindy said.
This year, they were closer to the front of the line, and Lyla knew exactly what she wanted to request from the man in red and white.
"A Cinderella doll," she said.
Copyright 2018 The Lawrence Journal-World. All rights reserved. This material may not be published, broadcast, rewritten or redistributed. We strive to uphold our values for every story published.