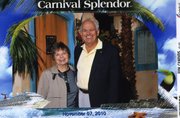 Bonner Springs — Roger and Sheila Miller thought their cruise along the Mexican Riviera would bring seven days of magic, relaxation and adventure.
The adventure, however, was much more than they bargained for.
The Bonner Springs residents were two of thousands of people stranded on the Carnival Splendor cruise ship for several days after an electrical fire in the engine room killed the ship's power on Nov. 8, one day into the cruise.
"It sounded 'bang, bang,' like an explosion, a small explosion," recalled Sheila Miller, whose cabin was on the deck just above the engine room. "I said, 'We're getting out of here.'"
Of course, being 44 miles off the coast at that point, "getting out of here" wasn't an option. Instead, passengers and crew members, which Roger Miller said totaled about 4,500, had to find inventive ways to deal without hot water, electricity and even, at times, functioning toilets for three full days.
Still, despite the circumstances, Roger and Sheila said they and their fellow passengers never wanted for entertainment while waiting for tugboats to arrive that would pull them back to shore. Called the Magic Cruise 2010, the trip featured 10 magicians originally expected to perform throughout the week. For them, the experience certainly gave the saying "the show must go on" a whole new meaning.
"We were fortunate in that the magicians that were going to perform … were able to find a room with light coming in, so they were able to perform for us and do their lectures and do the things that they planned," said Roger Miller, an amateur magician and a retired pharmacist and owner of Miller Pharmacy in Bonner Springs.
Passengers also passed the time by listening to the guitar and piano music played by crew musicians, playing cards, reading, talking, dancing and, for some, throwing back a few.

"They opened the bars and gave away the beer and wine," Roger Miller said.
For those expecting the extravagant fare usually provided on a cruise ship, the meals left much to be desired. But the Millers said they were impressed by the way food gathering, preparation and serving was handled with such limited resources.
The aircraft carrier Ronald Reagan delivered food by Tuesday afternoon of the trip, and the Millers say they dined on hot dogs, crabmeat sandwiches, salads, Pop-Tarts and dessert.
"The ice cream that melted, they called that a malt and they put it in cups," Sheila Miller said.
And because elevators weren't working, Sheila Miller said crew members created a "bucket brigade" of sorts at meal times, moving cases of food and beverages from one person to the next through an assembly line that would form across the many flights of stairs.
"They took very good care of us," she said. "They were very concerned, they were most generous in all they could do and they worked hard. The staff worked around the clock."
But then there was what Roger Miller called "the worst part."
Eventually four tugs brought the Carnival Splendor to port in San Diego, closing an adventure the Millers say they won't soon forget.
"It's certainly not planned for someone to go through that and share the trials and tribulations with 4,500 other people. I guess it was exciting in a way," Roger Miller said.
"You just deal with it," Sheila Miller added. "I'm glad we're safe and I wasn't feeling alarmed or anything."
The experience hasn't soured the Millers on cruises. They, along with all the other passengers on board, were refunded their money and given a free pass on another cruise of their choice.

"We're going to take advantage of this free trip, and I don't know where we'll go," Roger Miller said, suggesting he is ready for another adventure — though hopefully, this time, one with a destination point.
Copyright 2018 The Lawrence Journal-World. All rights reserved. This material may not be published, broadcast, rewritten or redistributed. We strive to uphold our values for every story published.