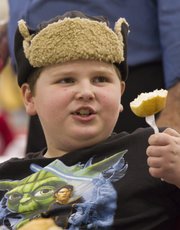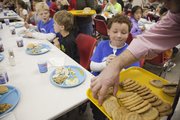 Inviting 400 elementary school-age children over for dinner may not sound all that peaceful, but Dave McKinney draws upon history to understand such an effort's importance.
The pilgrims didn't exactly enjoy easy times when they sat down for a harvest feast more than 380 years ago.
"It's an American tradition," said McKinney, master for Lawrence Masons, who joined several dozen fellow Masons, members of the Sertoma Club and friends to cook, serve and clean up after Tuesday evening's Boys & Girls Club of Lawrence Thanksgiving Dinner. "It gives us a sense of security. Traditions are part of our identity. Traditions help us develop our foundation."
It's a foundation embraced by Abby Reasoner and her fellow second-graders from Deerfield School, among the diners in an expansive dining room assembled inside Building 21 at the Douglas County Fairgrounds.
The 7-year-old may not completely understand the significance of early Thanksgivings, or that the Masons have been serving the Boys & Girls Club dinner for 20 years now, but she welcomed the tasty tradition that arrived by tray following her consumption of turkey, mashed potatoes, corn and a dinner roll.
Dessert, by tradition, tops off the meal.
"The best part is the cookies," Abby said, smiling in her "Beak 'Em Hawks" T-shirt. "They're just good."
Tuesday evening's diners represented about a third of the 1,200 youths that participate in Boys & Girls Club activities at 10 locations in Lawrence. Another 15 club members, all in junior high, volunteered as servers.
Janet Bremby, the club's executive director, smiled while she overlooked the scene that endures as an important tradition, one the club's children look forward to each year.
"It's a time for everybody to come together and celebrate," Bremby said.
Copyright 2018 The Lawrence Journal-World. All rights reserved. This material may not be published, broadcast, rewritten or redistributed. We strive to uphold our values for every story published.