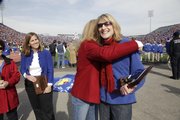 You don't win Kansas University's prestigious, student-selected Honor for Outstanding Progressive Educator, or HOPE, Award without being liked by your students.
But for this year's winner, journalism lecturer Denise Linville, getting through to the students comes first.
"That's not the most important thing," Linville said of being popular with her students. "It means more to me when I get e-mails from former students saying they're using what I taught them."
Over the years Linville has taught marketing, journalism and strategic communication skills to thousands of students. She's been at KU since 1984 as a student and joined the faculty in 1986. Linville earned a doctorate in higher education from KU in 1992; that same year she received her first nomination as a HOPE Award finalist.
Linville and the four other finalists were nominated by seniors at KU, and those nominees were voted on by the senior class. The final step was the selection by the Board of Class Officers and its Senior Advisory Board.
The evaluation process is rigorous, and includes interviews and observation of the finalists in the classroom.
"There's a lot of work that goes into this," said Linville, who thanked the senior class and the Board of Class Officers who worked on the award.
The award was established in 1959 and is the only KU teaching honor awarded solely by students. Linville will receive a monetary award, as well as a plaque honoring her at the Kansas Union.
Linville said the moment her name was called during half-time of Saturday's KU football game against Oklahoma State was "surreal."
"I'm feeling so lucky today I went out and bought a lotto ticket," she said.
Linville and several members of her family attended the game, and celebrated the award afterward on top of The Oread, overlooking the campus where she's taught for more than two decades.
The key to being successful in the classroom? Teaching a topic she loves.
"I'm really lucky that I teach a subject that is inherently interesting," Linville said.
The campus environment, the students and her colleagues at KU help as well, she said.
Linville — a mother of two teenage boys — commutes all the way from Smithville, Mo., to Lawrence and the Edwards Campus in Overland Park.
But it's worth the drive, she said.
"I can't think of a better place," Linville said. The KU community "has been really good to me."
Copyright 2018 The Lawrence Journal-World. All rights reserved. This material may not be published, broadcast, rewritten or redistributed. We strive to uphold our values for every story published.