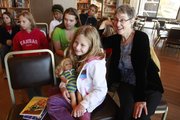 Chloe Taylor, 10, was all smiles Saturday morning, as local author Jane Kurtz talked about Chloe's favorite topic: American Girl dolls.
Seated next to Chloe was her American Girl doll, Brooklyn, who bore a striking resemblance to Chloe, freckles and all.
The youngster was among about a dozen area girls who attended the book signing and storytelling session held at Jayhawk Ink inside the Kansas Union. Kurtz penned the book about American Girl's "Girl of the Year 2010," Lanie, and she was sharing her experiences writing the book with the some of American Girl's biggest fans.
Chloe shot up both hands in excitement when Kurtz asked the crowd of avid fans whether they'd been to the American Girl store in Kansas City.
Chloe and her friends — including fellow 10-year-old Sandres Barbee — celebrated her 10th birthday party at the store.
Sandres also brought along her favorite American Girl doll to Saturday's event, and the two girls talked about what they like most about American Girl.
"The stories," Chloe said, adding that she saw some remarkable similarities between herself and Lanie. Both are in fourth grade, both have science class and both like nature.
"They can relate to them," said Sandres' mom, Kim, of why the girls are so drawn by the phenomenon. Though the dolls are expensive — about $100 — Kim encourages the activity and has seen some positive effects from the American Girl experience.
For instance, Sandres has been talking about starting a book club in Lawrence, where she and other American Girl fans can discuss the books written about each doll.
While the obsession with the dolls may seem inexplicable to some, Kim has a simple explanation for the craze.
"It's a girl thing," she said.
Copyright 2018 The Lawrence Journal-World. All rights reserved. This material may not be published, broadcast, rewritten or redistributed. We strive to uphold our values for every story published.