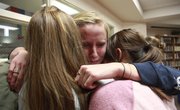 When around a dozen college coaches and recruiters called Lawrence High senior Emma Reaney on July 1 — the first day they could — Reaney didn't just listen to their pitches. Since she was oblivious about where she wanted to go, she took notes and asked them questions back.
So signing her national letter of intent with the University of Notre Dame on Thursday afternoon in the LHS library was certainly a weight off her shoulders, one that had been building until she made her decision.
"To find that one place where it just felt right was really, really relieving," Reaney said.
In a way, the decision was fitting. The head women's swimming coach at Notre Dame is Brian Barnes, who coached the Lawrence Aquahawks from 1998-2002. Emma didn't get any one-on-one instruction from Barnes as a youngster, but she knows he is a well-respected coach.
"He's just so comfortable to be around and he's funny and not too serious about it," Reaney said.
Reaney was also drawn to the other members of the coaching staff, the high level of academic standards and the pretty campus. Her father, Mark Reaney, said that Barnes told him that Emma was the only swimmer he had that could walk in the front door of Notre Dame and get accepted solely on her academic record.
But that certainly isn't a knock on Emma's ability in the pool.
She qualified for the 2008 Olympic Trials in the 200 individual medley and hopes to swim the 100 breaststroke in the 2012 Trials. To qualify, she must remake the time she set in the 2008 Trials. Her goals at Notre Dame include training for the Trials, but she also wants to make an impact in the program and help the team do well in the Big East Conference.
Mark said he was so proud of his daughter that he was "busting his buttons."
"To see it pay off into a lifelong choice like this, it's going to shape the rest of her life. It's nice to see other people appreciate her," Mark said.
The decision-making process eventually came down to two schools: Notre Dame and the University of Virginia. After returning from her third campus visit at Notre Dame, Reaney said it took her a while to decide between the schools.
"But when I asked people if they thought I should go to Virginia or Notre Dame, I found myself wanting them to say Notre Dame," Reaney said.
Patrick Norman, Reaney's primary coach on Ad Astra Area Aquatics for about a year, had high praise.
"She's not just a role model for students and swimmers here at LHS, but all of U.S. Swimming across the country," Norman said. "She sets the bar."
He also said that when Reaney called Barnes — driving at the time — to tell him that she was going to come to Notre Dame, he had to pull over to the side of the road because he didn't want to wreck the car.
"In his words," Norman said, "it was one of the greatest accomplishments he ever had as a coach, to be able to have someone like Emma come and swim at the University of Notre Dame."
Copyright 2018 The Lawrence Journal-World. All rights reserved. This material may not be published, broadcast, rewritten or redistributed. We strive to uphold our values for every story published.