Photo Gallery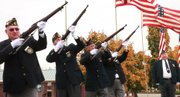 Veterans Day 2010
Photos from Veterans Day celebrations in Lawrence and surrounding areas.
Several events in Lawrence, Douglas County and the surrounding areas are scheduled to celebrate Veterans Day. We'll be posting photos from these events in our Veterans Day 2010 photo gallery.
Thursday morning, veterans gathered at the American Legion Post, 3408 W. Sixth Street, to publicly honor those who have served in the military.
On Wednesday afternoon, the U.S. Marine Corps celebrated its 235th birthday at the Dole Institute of Politics. Read about more Veterans Day events and office closures.
Check back with LJWorld.com for more pictures.
Copyright 2018 The Lawrence Journal-World. All rights reserved. This material may not be published, broadcast, rewritten or redistributed. We strive to uphold our values for every story published.