On the street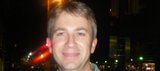 Not anymore. My dad was, in the Korean War.
A poem for veterans
During Wednesday's Marine Corps' ceremony, retired Capt. J.W. "Buck" Newsom read lines from this poem:
It is the veteran, not the preacher,
who has given us freedom of religion.
It is the veteran, not the reporter,
who has given us freedom of the press.
It is the veteran, not the poet,
who has given us freedom of speech.
It is the veteran, not the campus organizer,
who has given us freedom to assemble.
It is the veteran, not the lawyer,
who has given us the right to a fair trial.
It is the veteran, not the politician,
who has given us the right to vote.
Area Veterans Day and military events this week:
• The Leavenworth annual Veterans Day parade will begin at 10:30 a.m. today in downtown Leavenworth.
• The Lawrence American Legion's annual ceremony will be at 11:11 a.m. today at the post, 3408 W. Sixth St.
• The Lawrence Veterans of Foreign Wars post's ceremony will be at 5:30 p.m. today at the post, 138 Ala.
• Kansas University's Air Force, Army and Navy ROTC units will observe Veterans Day with several events. A flag-lowering ceremony on the lawn of Strong Hall begins at 4 p.m. Friday, followed by a ceremony in room 110 of Budig Hall featuring retired Army Maj. Gen. Fred D. Robinson.
• ROTC units will participate in a 24-hour vigil beginning at 7 p.m. Friday at the three war memorials on Memorial Drive — the campanile, plus the Korean War and Vietnam War memorials.
• A 5K Veterans Day run begins at 8:30 a.m. Saturday in front of Burge Union. Registration is $15.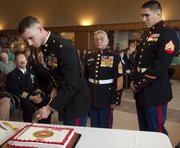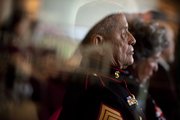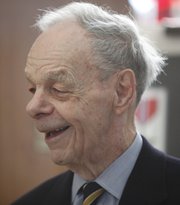 For retired Marine Sgt. Maj. Jess Pacheco, it was an honor to put on his uniform to celebrate the Marine Corps' 235th birthday Wednesday at the Dole Institute of Politics.
"It brings back memories of my active duty in the military and a time to talk with all the Marines and do a little bit of celebrating," Pacheco said.
The 86-year-old Lawrence resident, who served in World War II, as well as the Korean and Vietnam wars, received a piece of cake for being the oldest Marine at the annual celebration, which included about 200 retired and active Marines, plus veterans of other branches and friends.
Pacheco and others said the annual birthday shows the camaraderie among Marines of all ages.
"I love it. We're all about tradition," said Lawrence resident Ted Pastrano, who retired as a master sergeant in 1999 after 25 years. "It's a brotherhood. That's all it is."
A message was read from Gen. James. F. Amos, the current Marine Corps commandant, that celebrated the 60th anniversary of Korean War operation, the recent ending of Marine combat operations in Iraq and expressed support for those still serving in Afghanistan.
In addition to focusing on traditions of the past, a speech by Lawrence resident John W. "Buck" Newsom, a retired Navy captain, also focused on challenges that the country and current generation face in the form of terrorism. But he said the country should not revert to "isolationism."
"Despite our faults — and we have them — despite our mistakes — and we have certainly made them — we have the most giving country in the world," said Newsom, who served in World War II, Korea and Vietnam.
Newsom said terrorists in Iraq, Afghanistan and other places are "violent extremists, misguided brainwashed zealots who have no rules" for combat.
"We should say a little prayer for the welfare, the success, the safety and the well-being of today's generation," said Newsom, 91, "for they hold in their hands the future of this wonderful country."
Sgt. Daniel Petrosky, a Kansas University junior who served in Iraq in 2007, was the youngest Marine in attendance and said he wasn't sure how historians would view his generation of Marines and other military members.
"But I think that what's happening in Iraq and Afghanistan is something that's worthwhile," Petrosky said, "and will be remembered forever."
Copyright 2018 The Lawrence Journal-World. All rights reserved. This material may not be published, broadcast, rewritten or redistributed. We strive to uphold our values for every story published.