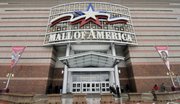 New York — Layaway, once the province of the poor, has gone mainstream. At the Mall of America in Minnesota, shoppers dart in for just one or two things. In New York, socialites do the unthinkable: They wear the same ball gown twice.
During the Great Recession, people made drastic changes in how they spent their money. They stopped treating credit cards as cash. They learned to save and learned to wait.
Now the recession is over, at least technically, and the economy is growing again, at least a little. But many changes in spending habits that most Americans first saw as temporary have taken hold, perhaps for good, some economists say.
This is the reality of the new American consumer — focused, cautious and tactical.
In Jacksonville, Fla., Bernie Decelles and his wife both have jobs and own their home. They recognize that the economy is still fragile, though, and that they work in industries still struggling. They scrutinize every purchase they make.
"It used to be if we saw something, and liked it, we bought it," says Decelles, a salesman for a company that makes storage equipment. "Nowadays, no way."
In dozens of interviews nationwide with shoppers, retailers, manufacturers, economists and analysts, The Associated Press identified key changes in consumer behavior that have endured after the recession. They include:
l Americans are buying brands and shopping at stores that they shunned before. They are trying more store-brand products for things like detergent and beer. Goodwill and consignment shops are attracting customers across the income spectrum. And people are putting big-ticket items on layaway rather than whipping out charge cards.
l Consumers are taking a surgical approach to shopping, buying only what they need, when they need it. Pantries are no longer filled with weeks' worth of food, nor closets with clothes bought seasons in advance. Shoppers are visiting fewer stores, both traditional and online, and getting only what's on their shopping list.
l The wealthy are spending again, but their behavior is much like everyone else. They are buying more timeless and classic goods: watches and handbags that won't go out of style quickly. They are even — gasp! — recycling some of their most expensive clothes and wearing them twice.
These behavioral shifts aren't at the extremes of the Great Depression, which produced changes so drastic that many who lived through it adopted frugality as a lifelong habit.
Still, some experts say the changes from the recession of 2007, 2008 and 2009 could last.
"This was a massive cultural event for our society," says John Gerzema, a branding executive at marketing and advertising firm Young & Rubicam and co-author of a new book about the changing ways we spend money. "Eighty percent of Americans were born after World War II, so essentially this is our Depression."
The impact is hard to overstate. Consumer spending represents 70 percent of economic activity. Every business feels the pullback in some way, and it's more pronounced for those that sell things directly to people.
The new patterns of spending represent a radical turn from the boom years of the last decade. Americans up and down the income ladder piled on credit-card debt and used their homes as ATMs by taking out home-equity loans to pay for third cars, clothes and far-flung vacations.
During that time, the savings rate plunged to nearly zero. Americans accumulated debts that far exceeded their incomes. Household debt, including obligations for mortgages and credit cards, rose to about 140 percent of disposable income, double what it was before the boom years.
Credit was easy, and money seemed readily available. Until it wasn't.
"We saw a period of consumption that was unusual and unstable," says Jarrett Paschel, vice president of strategy and innovation at The Hartman Group, a consumer research firm in Bellevue, Wash.
A plunge in housing prices set off the economy's slump. Most Americans were left financially stressed in some way. Millions of people abandoned all but the necessities; for some, the necessities became luxuries.
Copyright 2018 The Associated Press. All rights reserved. This material may not be published, broadcast, rewritten or redistributed. We strive to uphold our values for every story published.