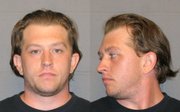 A 29-year-old Lawrence man Thursday pleaded guilty to having sex with a 6-year-old girl and possessing child pornography in June.
Steve A. Williams admitted to the acts Thursday morning in front of Douglas County District Judge Michael Malone.
Williams, who had lived with his mother in northern Lawrence, was arrested and charged this summer with five counts, but Douglas County District Attorney Charles Branson said the plea was important because Williams still could spend the rest of his life in prison.
Malone told Williams in court that he faces a sentence of 25 years to life in prison on the rape count. Williams did know the victim.
"We're very satisfied to be able to get a life sentence in a situation like this where the offender's guaranteed to be in prison for at least 25 years," said Branson, who prosecuted the case. "It provides that lengthy separation from the victim, where the victim can attempt to heal and recover from their traumatic experience knowing that they're safe from the defendant."
Williams admitted to the acts based on information he told Lawrence police officers in an interview that was recorded. He admitted to having sexual intercourse with the child in June and possessing pornography on his computer of another child who was under the age of 18.
Family members after the arrest said the exploitation charge stemmed from Williams showing the DVD containing child pornography to another family member. A relative turned the DVD over to police, which spurred the investigation.
"You're saying you did do that?" Malone asked about the rape charge.
"Yes," Williams replied.
Attorneys from both sides said they would recommend the exploitation sentence run concurrently with the rape sentence. Williams will have to register and report as a sex offender if he's ever released from prison.
Malone revoked Williams' bond and scheduled a sentencing hearing for Jan. 7.
A jury trial was scheduled to begin Monday, but last week Malone ruled the video interview with police could be used at trial.
Defense attorney Jessica Kunen said she expected to file a motion asking for a lesser sentence. Branson said he would oppose the motion.
The child rape plea still falls under Jessica's Law, meaning Williams faces 25 years to life in prison.
"We don't have to put a 6-year-old child on the stand and make her go through that additional trauma of testifying in court about what happened," Branson said. "We're pretty happy about the outcome."
Copyright 2018 The Lawrence Journal-World. All rights reserved. This material may not be published, broadcast, rewritten or redistributed. We strive to uphold our values for every story published.