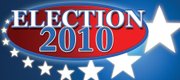 Find detailed candidate profiles, campaign finance information and complete election coverage in our Election Guide.
Topeka — Signs of a new administration are taking shape in the Kansas Statehouse.
Early Wednesday, crews began setting up transition offices for Republican Sam Brownback as he prepares to take the reins as governor.
Brownback defeated Democrat State Sen. Tom Holland Tuesday, ending eight years of Democratic control of the governor's office.
A private meeting between Brownback and Democratic Gov. Mark Parkinson was scheduled Wednesday afternoon to begin the transition. Parkinson named a three-member team to help with the switch to a new administration.
Brownback, who spent 16 years in Washington, was expected to hold a news conference Thursday to announce his transition team and timeline for naming his cabinet.
Copyright 2018 The Associated Press. All rights reserved. This material may not be published, broadcast, rewritten or redistributed. We strive to uphold our values for every story published.