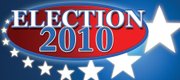 Find detailed candidate profiles, campaign finance information and complete election coverage in our Election Guide.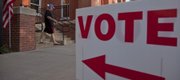 Dennis McKinney and Ron Estes are running for Kansas State Treasurer.
-->
11:04 p.m. update
TOPEKA (AP) - Kansas is getting a new Republican state treasurer.
Sedgwick County treasurer Ron Estes defeated Democratic incumbent Dennis McKinney in Tuesday's election.
McKinney was appointed state treasurer in 2008 by Democratic Gov. Kathleen Sebelius, after Republican treasurer Lynn Jenkins was elected to the U.S. House.
Estes was outspent 6-to-1 by McKinney in this fall's campaign, and their race was low-key. Even as Estes promised to make improvements, he acknowledged that he didn't have much criticism of McKinney.
10:35 p.m. update
BULLETIN (AP) — Ron Estes, GOP, elected Treasurer, Kansas.
9:23 p.m. update
Estes is climbing ahead with 57.9 percent of the vote.
9:13 p.m. update
Estes still leads the race with with 56.8 percent. McKinney has 43.2 percent.
8:15 p.m. update
Ron Estes has taken the lead in the state treasurer race with 58.3 percent. McKinney now has 41.7 percent.
7:50 p.m. update
McKinney is still leading the race with 52.9 percent of the vote. Estes has 47.1 percent.
7:25 p.m. update
Democratic candidate Dennis McKinney is leading the state treasurer race as the first election results come in. He has 61.2 percent of the vote.
Republican candidate Ron Estes is trailing with 38.8 percent of the vote.
Copyright 2018 The Lawrence Journal-World. All rights reserved. This material may not be published, broadcast, rewritten or redistributed. We strive to uphold our values for every story published.