Wichita — Keene Niemack needs a nap.
At least it would seem that way following a two-day Class 6A state track and field meet that afforded the Free State High senior little downtime.
Photo Gallery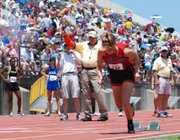 6A State Track Meet
6A state track meet
By the conclusion of Saturday's final day of competition at Wichita State University's Cessna Stadium, Niemack had taken the track a total of seven times (counting prelims) — a workload that proved daunting even for one of the area's most decorated athletes.
"Yesterday, I had four events in a matter of two, three hours, and by the time I was done, I was spent," said Niemack, who earned medals in two events at last year's state meet. "But I don't want to make excuses. I'm sure there were a lot of people that were doing the same thing I did."
Maybe. But it's hard to imagine many saw the same kind of results.
After qualifying for the state meet in four events during the May 21 regional meet — the first Free State athlete to do so since Alysha Valencia four years ago — Niemack managed to advance to the state finals in three of them, finishing third in the 400-meter dash, eighth in the 200-meter dash and anchoring the 4x400-meter relay team to a fourth-place finish in the meet's final event.

"We talked about how it was going to be a challenge," said Firebirds coach Steve Heffernan of the senior's workload. "I know he was a little bit more tired after Friday than we thought he was going to be, but he (had enough left in the 4x400 relay) to bring us from fifth or six up to fourth, so he was able to finish his career off well."
In the end, Niemack was one of several area seniors to cap their careers on a high note.
Free State's Drue Davis, who on Friday earned her second consecutive state pole vault title, finished fifth and sixth, respectively, in the 200- and 100-meter dash finals Saturday, giving her three state medals for the weekend, while fellow Firebirds senior Libby Wiebe anchored the girls 4x800-meter relay team to a second-place finish, capturing a state medal that had eluded her throughout her first three state competitions.
"I've been here the past four years, since my freshman year, and we've improved, but we've never done this well," said Wiebe, who was part of the school's 2009 4x800 relay team that missed a state medal by two spots. "It's very nice to finally have that."
In addition, the Lawrence High boys 4x800-meter relay team made up of four seniors — Calvin Morgan, Jonathan Gabler, Roy Wedge and Kyler Thomann — finished fourth to miss breaking narrowly the school's long-time record in the event.
Overall, the Firebirds boys team finished 12th, edging 15th-place Lawrence High by less than three points. Free State's girls were 13th, 14 spots ahead of the 27th-place Lions.
"It's nice to be able to have athletes finish careers on high notes," Heffernan said. "A lot of times that doesn't happen, but I thought our seniors represented us really well."
Despite the mass exodus of a number of city athletes, however, there's reason for city coaches to feel good about the prospect of the 2011 season, thanks at least in part to a pair of juniors-to-be who made the most of their first state competition.
Firebirds sophomore Kain Anderson captured four medals — finishing fourth in the 3,200, seventh in the 1,600 and helping Free State's 4x400 and 4x800 relay teams to fourth- and sixth-place finishes, respectively — and Lawrence High's Blake Hocking managed a sixth-place showing in the shot put to go along with a 10th-place finish in the discus.
"I would have been disappointed with anything that wasn't a win," said Hocking, whose throw of 50 feet, 111⁄4 inches in the shot put was less than two feet short of the winning throw. "But at the same time, I'm glad I went through it.
"I'm already thinking about what I'm going to do here next year."
Copyright 2018 The Lawrence Journal-World. All rights reserved. This material may not be published, broadcast, rewritten or redistributed. We strive to uphold our values for every story published.