Photo Gallery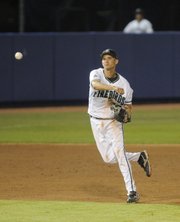 6A State Baseball Tournament: Free State vs. Wichita Northwest
Free State defeated Wichita Northwest 11-0 on May 28, 2010.
From Michael Lisher's view at first base, playing defense wasn't too much of a challenge Friday night at Hoglund Ballpark. Just sit back, relax and enjoy Cody Kukuk's scintillating pitching performance.
"It was pretty easy to play the field with him on the mound," Lisher, a Free State High senior, said with a smile.
Kukuk struck out 12 batters and allowed only one hit in Free State's 11-0, five-inning victory over Wichita Northwest in the first round of the Class 6A state baseball tournament.
"I was going to go straight at them," Kukuk, a junior, said. "See if they could hit it. If they can't, we'd keep doing what we were doing. If they can, we'd have to adjust."
Scratch that part about adjusting.
Coming into Friday, Wichita Northwest (18-5) had six hitters sporting an average of .400 or better. The Grizzlies only put three baseballs into play against the flame-throwing Kukuk, who reached 94 mph on the radar gun.
"That's Cody," Free State coach Mike Hill said. "He was exceptional. He's going through a transition. He's a really good pitcher right now. But he's trying to become a great pitcher. And that's a big leap to make. It's beginning to happen. What the difference for him will be is command."
Kukuk did allow five walks and threw 114 pitches in the run-rule-shortened, complete-game outing. His pitch count hit 79 after just three frames.
"I walked a few too many people, but for the most part, I did pretty well," Kukuk said. "And I got the shutout, so that feels good."
Kukuk took a no-hitter into the fourth inning, but Wichita Northwest's Jacob Jones spoiled the no-hit bid with a single to right field. That summed up the offensive highlights for the Grizzlies.
"Cody was pretty magnificent tonight," Lisher said. "When he gets those fastballs across there, he's pretty tough to hit, with his breaking stuff. He was really mixing up pitches (fastball, slider, changeup) well. It's always pretty good when he's on the mound because we know he can get the job done."
Kukuk improved to 9-0.
Free State (19-4) will face Maize (21-2) at 12:30 p.m. today at Hoglund Ballpark in the state semifinals. Win that, and the Firebirds would play in their third state championship game in the last seven years (they lost in 2004, won in 2006) at 5:30 p.m. later today.
The third-place game is slated for 3 p.m.
Will Kukuk, who said his arm felt great after Friday, have a chance to see the mound again this season? It's unlikely.
"I certainly don't anticipate that," Hill said. "We want to be careful with him and not put him in a situation where he's going to get hurt. I wouldn't anticipate using him, but you never know."
That leaves Free State with a choice between junior Colin Toalson, senior Ryan Scott, sophomore JD Prochaska or senior Rob Wagner. Hill wouldn't name a starting pitcher after Friday's game.
The Firebirds didn't have trouble chasing Wichita Northwest senior Ethan Chadick, an all-state pitcher who made it through only two-thirds of an inning.
Free State jumped to a 4-0 lead in the first inning. Tim Lewis blasted a triple that scored Connor Stremel and Bo Schneider. Toalson singled to score Lewis and Adam Petz singled to score Toalson.
The Firebirds iced the game with seven runs in the third frame. Six Free State batters produced RBIs.
"I think we were more aggressive tonight," said Lisher, who went 2-for-2 with an RBI. "We were getting fastballs early in the count. In the past, we've sat back and watched them go by, (only to) get breaking balls later on and miss. This time, we were attacking the fastball, and we all hit them pretty well."
Copyright 2018 The Lawrence Journal-World. All rights reserved. This material may not be published, broadcast, rewritten or redistributed. We strive to uphold our values for every story published.