The 150 flags lining the entrance to Oak Hill Cemetery are a familiar Memorial Day sight for many area residents. The American Legion in Lawrence will place the flags again this year.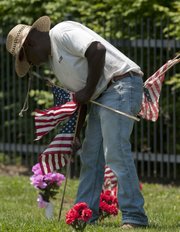 At 10 a.m. Monday, the Legion will host its annual ceremony honoring past and current soldiers. One of the events will be a two-bell ceremony in remembrance of the 60 local veterans who have died in the last year. Other events include guest speakers and a gun salute.
Sons of Union Veterans of the Civil War will also hold an event at Oak Hill Cemetery in conjunction with Memorial Day. The group, along with Club and Boy Scouts, will place about 300 flags on the graves of Civil War veterans starting at 8:30 a.m. on Saturday.
Hank Sipple, Legion commander, said if he had to pick a theme for this year's Memorial Day ceremony, it would probably be "the cost of war." He said they want to instill in the public what war is as well as remembering soldiers.
"We want to remind citizens that war is expensive — in both money and lives," Sipple said.
Here's a list of other ceremonies planned Monday at local cemeteries:
• 9 a.m., Catholic Cemetery, end East 13th Street before entrance to Oak Hill Cemetery. St. John the Evangelist Catholic Church's Memorial Day Mass and blessing of holy water to be placed on graves.
• 11 a.m., Memorial Park Cemetery, 1517 East 15th St. Veterans of Foreign Wars ceremony, with Iraq War veteran Felix Zacharias speaking. The VFW also will install 200 to 250 flags along the entrance to Memorial Park Cemetery starting at 8 a.m.
• 11:30 a.m., Clinton Cemetery, 724 N. 950 Road.
Copyright 2018 The Lawrence Journal-World. All rights reserved. This material may not be published, broadcast, rewritten or redistributed. We strive to uphold our values for every story published.